How to Use Windows Skydrive to Share Large Files
by James Withers

Social networking is the present craze in internet applications, and Microsoft certainly does not intend to be left out in the cold with regard to its internet dominance. It has recently snapped up a fine piece of storage management software called Skydrive, which it has transformed into a Windows Live product. By using Skydrive, Windows Live users are given an equivalent amount of online storage space as is available in their Hotmail accounts. However, Skydrive differs from Hotmail in the sense that it provides an uncluttered space for secure file sharing as well as the freedom to share your files publicly in the same way that you would on popular social networking websites like Myspace.
Using Your Primary Computer
Using Your Secondary Computer
Log into your Skydrive account. When you log onto your Skydrive account on your secondary computer, you will only need to sign up once again with your Windows Live account email address & password. This is the magic of Skydrive; there is no storage management software that you need to download on either computer. Once you log in, you will be returned to your homepage where you will once again have the option to open up your personal, shared & public folders.
Open the folder where you have saved your file. Unlike your own P.C., where you can sometimes accidentally save files into strange nether regions that are quickly forgotten, it won't be easy to lose your files in Skydrive since it only has 3 folder options to choose from.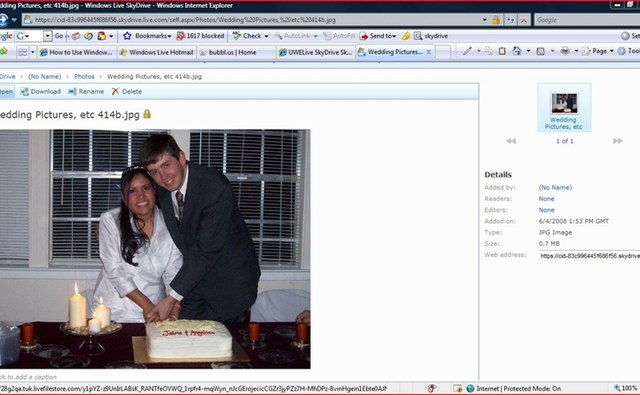 Click on the file and choose to save, print, or mail it to others. Skydrive lets you put your files to use right away by giving you the options to save, print or mail them. Storage management software offered by other companies may downloaded rather than online, so emailing your files from their locations may not be as simple as with Skydrive. Since Skydrive is an online storage space, you can rest assured that your file will be safe to leave there if you choose not to download it -- it will not be capriciously deleted, just as when you use Windows Live Hotmail.
Tip
check

Make use of the "comment" feature on Skydrive to tag your favorite photos or files, or receive comments from friends who you invite to view your folders. Since Skydrive works on an invitation-only basis, you will not need to worry that your personal photographs are being viewed by strangers from all over the world, yet you will still be able to enjoy the social networking features of this application if you so desire.
Warning
close

Although Skydrive lets you use 5 GB of online storage space, one drawback of using this software is that it will only allow you to upload files that are 50 MB or less in size. Often, a file can be resized by using the program that it was created with in the first place. However, many free online tools can also be used to accomplish this task.
More Articles