How to Set Up a Mailing List
by Jackson Lewis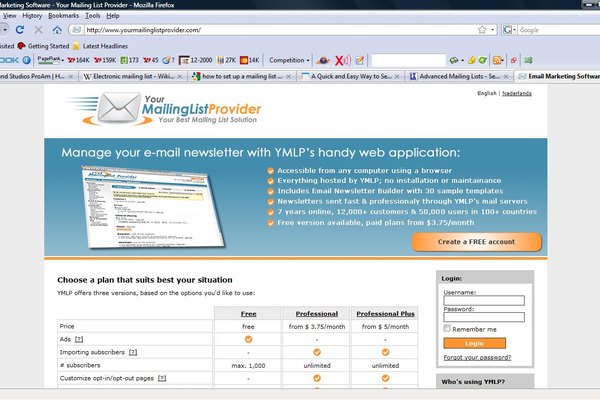 Mailing lists are most commonly setup using email in today's marketplace. Electronic media has made it possible for the marketer to achieve a much more widespread distribution than using regular mail. Email mailing list software has matured to the point that electronic mailing lists are almost fully automated functions and when used with server technology are capable of receiving subscribe and unsubscribe commands from end-users without manual intervention on the part of the list administrator. There are a number of free-ware and share-ware software packages available to setup and run mailing lists to include MajorDomo for Unix-based servers and Google's web-based application.
1
Subscribe for a free account at the YourMailingListProvider (YMLP) website.
2
Enter or Import your initial email contacts for distributing the mailing list information by selecting either the "Import" or "Add" menu selection items from the application menu on the main page of the website.
3
Select the "Compose Newsletter" menu option to write the first mailing list email for distribution.
4
Select the "Send Newsletter" option from the YMLP menu option to send the initial email. YMLP automatically includes an "Unsubscribe" footer to all mailing list distributions to allow subscribers to "Opt Out" of the email distribution.
More Articles
Photo Credits
photo_camera

Screen Shots Taken by the Author.