About Hotmail
by Jared Paventi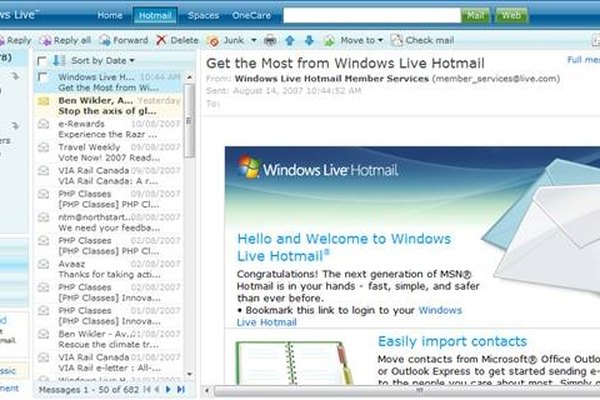 In 1996, while email was gaining popularity in American culture, two programmers, Jack Smith and Sabeer Bhatia, built one of the first free web-based email services. Hotmail started as an idea to provide people with free email and turned into one of the largest email providers in the world. Available in more than 30 languages, the service boasts more than 260 million users.
History
Launched on July 4, 1996, Hotmail was one of the first web-based mail services on the market. Founded by Jack Smith and Sabeer Bhatia during the dot-com boom, it had more than 8.5 million users by the end of 1997. It was around that same time that Microsoft paid $400 million for the service. The Microsoft purchase led to expansion to more and more languages, becoming the largest webmail service in the world by the end of 1999, sporting more than 30 million users. In 2008, the service reports user totals of more than 260 million.
Function
Bhatia and Smith built Hotmail on a platform using Free BSD and Solaris operating systems. One two separate occasions, Microsoft has attempted to migrate the service to different operating systems--in 1998 to Windows NT and in 2001 to Windows 2000. The first attempt failed, while the second was not a full conversion. In 2005, Microsoft launched a rebuilt Hotmail, with a software system built from scratch.
Significance
While Hotmail was one of the first webmail services, it is not the only one. Yahoo and Lycos, among others, were the primary competitors in the free web email market. Gmail revolutionized the industry in 2004, offering increased storage and speed. The result was significant improvements to the legacy services to stay competitive.
Features
Hotmail's features have grown over the years. Originally, Hotmail offered folders, POP mail retrieval and spellchecking. Microsoft has expanded the features to include an integrated audio player for MP3 files, user-controllable color schemes, integration with Windows Messenger and best-of-breed security features. The services is available in Arabic, Bulgarian, simplified and traditional Chinese, Croatian, Czech, Danish, Dutch, English, Estonian, Finnish, French, German, Greek, Hebrew, Hungarian, Italian, Japanese, Korean, Latvian, Lithuanian, Norwegian, Polish, Portuguese, Romanian, Russian, Serbian, Slovak, Slovenian, Spanish, Swedish, Thai, Turkish and Ukrainian.
Types
There are two versions of Hotmail. The free service offers the standard slate of benefits with 5 gigabytes of space. Hotmail Plus, which costs $19.95 per year, comes with 10GB of space, no advertisements and 20MB file attachments.
Photo Credits
photo_camera

An inbox screen from Hotmail. (Wikipedia)