How to Renew Vehicle Registration Online
by Contributor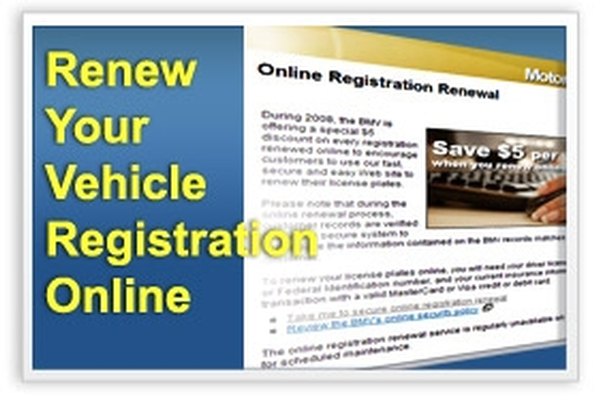 You probably do not have time to visit your Department of Motor Vehicles in person and wait in long lines. What if there were an easier way where you could renew your vehicle registration without leaving your home. This could save you time, gas and money. The small fee you pay to enjoy this convenience far outweighs the gas expense you would have when you drive to the Department of Motor Vehicles and the aggravation.
Wait for your motor vehicle license plate renewal notice to arrive by mail. It usually can come up to six weeks in advance of the actual renewal date. You generally will have until the end of the month to pay fees and submit your renewal.
Take your car for an inspection or emission test. If you do not have this in your state, or it is not required of you this year, then you can skip this step. If you are unsure, consult your renewal notice. If it has a map and information in it, then you are probably required to receive the test.
Go to the website listed on the slip that came with your registration renewal notice by typing it in the address bar in your web browser. If you are not sure of the website address, you can find a link to participating states located within this article for your convenience. If your state is not listed, it is likely they are not participating in Internet registration renewal at this time.
Click on "renew license plate (registration)" or similar menu choice when you are on the registration website for your state. This will get you to the proper registration renewal screen.
Fill in the information as required on the screen. You may also have to fill in a "registration renewal code or number" which is located on your renewal slip from the state, usually found towards the top. Entering this code should bring up the information screen for your vehicle. If it does not, repeat this Step until the information is accurate and accepted by the computer.
Enter your credit card information for payment, as not all states accept debit cards or checks as a form of payment. You will need the expiration date and most likely the 3 digit code found on the back by your signature. You may be required to pay a slightly higher rate for any license you renew online. This charge can be anywhere from $1 to $5.
Print out the confirmation screen when you are finished. This is proof of payment in case the Department of Motor Vehicles has any questions or cannot find your payment.
Wait for your registration tags or license plates to arrive in the mail. This process can be anywhere from one to four weeks, depending upon if your plates are personalized or if there is a delay in processing.
Warnings
close

Renew well in advance. This will allow adequate time to receive your renewal stickers.

close

Not all states have online registration capability at this time.
More Articles
Photo Credits
photo_camera

http://www.imcpl.org/about/news/press2008/images/2008AprBMV-renew.jpg