How to Record Webcasts
by Josh Fredman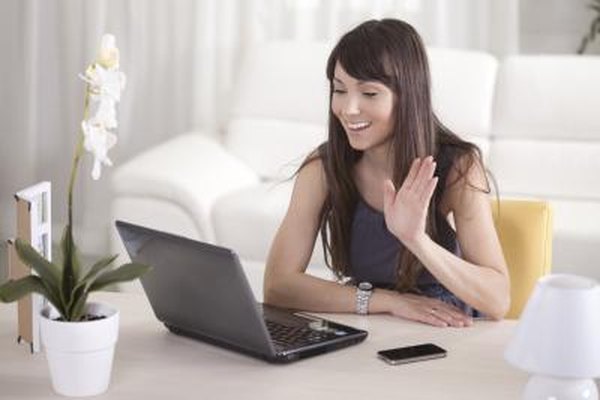 Recording a video and streaming it live over the Internet requires several components. First you need a camera to actually do the recording. Then you need a media encoder to prepare the data for transmission over the Internet. Next you need a media publisher to host the stream online. Finally you need a content delivery network to distribute the stream to viewers. In practice, many content delivery networks, such as YouTube, also handle the publishing aspect. When it comes to the encoder you use, you have a lot of different options, ranging from free desktop software to five-figure dedicated machines.
Free Software Encoder: Flash Media Live Encoder
Considering that the most heavy-duty encoders on the market can cost upwards of $40,000, it's remarkable that Adobe Systems offers one for free. Flash Media Live Encoder is a desktop-based, Windows-compatible encoder designed for live streaming. It has all the basic functionality you'll need for casual, occasional live streams, and is easy to integrate with YouTube's Live Events streaming service. However, FMLE has numerous drawbacks that reflect its price point. Adobe doesn't offer much user support. Finding the right drivers for your needs can be a hassle. The software may not be compatible with your video card. It only supports up to three streams at a time, and may not produce the specific output formats you want. Also, as a software-based encoder, FMLE is inherently less capable and reliable than its dedicated hardware counterparts. For recreational use it might serve your needs, but this isn't the encoder to stake your business on.
Paid Software Encoder: Wirecast
A more well-balanced software encoder is Telestar's live streaming encoder Wirecast. It installs onto most Windows and Mac desktops, though Telestar recommends that you have a strong video card for optimal performance. Wirecast offers more functions than FMLE, including broader compatibility with cameras, more output formats, more streams and the ability to switch between multiple cameras during your live stream. Like FMLE, Wirecast integrates easily with YouTube Live Streaming. The price starts at $450 and goes up from there. Wirecast's biggest drawback is its software-based encoding, which depends on your computer to run and isn't as reliable or consistent as a hardware encoder. Wirecast offers a good solution for most recreational live streaming and some small-scale business applications.
Mid-Level Hardware Encoder: TouchStream
If you want the most reliable and consistent live streaming experience, you should eventually buy a dedicated hardware-based media encoder. Digital Rapids offers a solid mid-level encoder in the form of its TouchStream all-in-one unit. TouchStream uses onboard touch-screen controls to eliminate the need for a separate computer interface, making it a good candidate for some portable live streaming applications in addition to standard in-studio streaming. As a hardware unit, TouchStream offers an impressive array of video and sound controls, and supports many types of live streaming -- such as HTTP Live Streaming, Dynamic Streaming and Smooth Streaming -- as well as many output formats. A variety of different available models increase your options, allowing you to customize your rig for maximum value. The major drawback is the price; models start in the $3,000 range and can go up past $12,000. For casual use the TouchStream is probably overkill, but if your business depends on frequent, high-quality live streaming, and if you want a semi-portable live streaming option, this is the kind of ballpark you should be looking in.
On-Camera Hardware Encoder: Broadcaster
If you want the reliability of hardware and the convenience of something super-portable, all at a reasonable price point, then consider buying an on-camera encoder. One such device is Livestream's Broadcaster, a small red piece of hardware that physically attaches to your HD camera. For normal operation you don't need a computer to control the encoder, and Broadcaster's wireless capability means you can stream from anywhere with an Internet connection. Though it's intended to run on battery power, you can also connect it to an AC adapter for continuous use. Broadcaster is simple to install and use, easy to handle and costs roughly $500. It's a good, low-cost solution for portable streaming, but it doesn't have the breadth of features that a less portable encoder does. Owing to Broadcaster's small size, the control panel is also very limited.
Photo Credits
photo_camera

M_a_y_a/iStock/Getty Images