How to Find Out If an Online High School Diploma Is Real?
by Melly Parker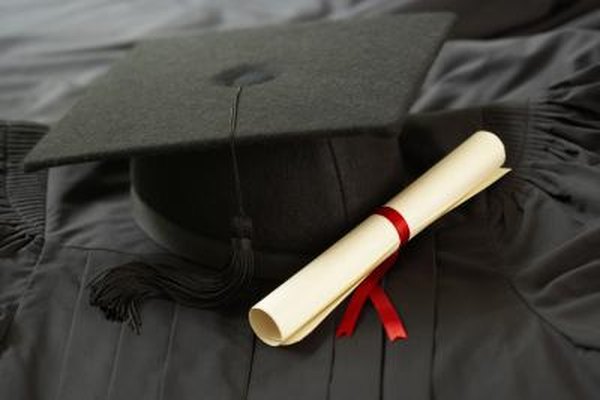 Many online high schools offer students a variety of diplomas, including high school diplomas. While some are legitimate, others are diploma mills that trade a potentially useless diploma for money. For a diploma to be truly legitimate, it should be accredited by a reputable, recognized organization. Without proper accreditation, a diploma may not be accepted by employers or collages, even though all diplomas are technically "real."
Accreditation
Each online high school should list its accreditation on its website; even diploma mills will show an accrediting body, even though there are many that aren't recognized by either the U.S. Department of Education or the Council on Higher Education Accreditation. Legitimate schools have to meet rigorous standards to qualify for accreditation by bodies recognized by these organizations. If the school you're looking at doesn't have proper accreditation, the diploma you receive will only be a fancy piece of paper.
Diploma Mills
Diploma mills are businesses that make a lot of money by selling diplomas with poor credentials. Instead of offering classes, they often have a person take a test to determine whether he receives a degree. If he passes the test, which he almost always does, he can pay hundreds or even thousands of dollars to receive a diploma and other items in the mail, often including letters of recommendation or school awards. Though the package appears legitimate, it won't help you achieve the next step in education or a good job. People have been fired for using diploma mill degrees to get hired, even if they weren't aware that the diploma was not legitimate.
Research
Before you invest time -- and money -- in an online high school, do your research. Do an Internet search on the name of the school and read results beyond the first page. Find out whether other people have had trouble with the degrees they received from the school you're considering. You can also check with the Better Business Bureau or the Attorney General's office in the state where the school is located to see whether anyone has filed a complaint.
Tips
Once you find the online high school's accreditation listed on its site, check it against lists at the U.S. Department of Education and Council for Higher Education Accreditation (see Resources). If the accrediting agency isn't on the list at either place, you should not pursue the diploma; it isn't worth your time. If you have a particular college or job you're hoping to use the diploma for, contact either the admissions office or the human resources department to ask whether a diploma from the online high school you're considering is an asset or even recognized.
Photo Credits
photo_camera

Jupiterimages/Photos.com/Getty Images