DIY Landscaping Software
by Constance Keasler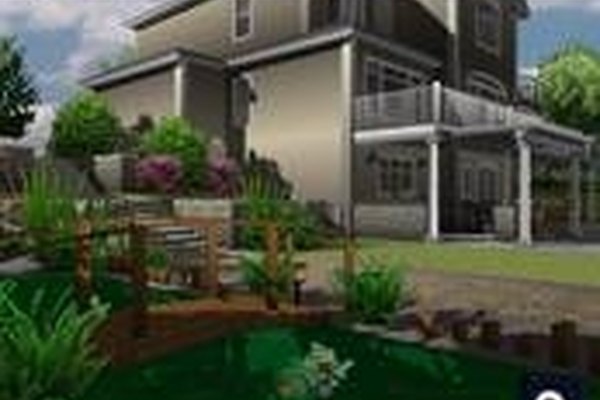 Landscape software designed for the non-professional helps the do-it-yourself gardener create on-screen the landscape they see in their mind. Software choices range from sophisticated to simple and costly to free. Some of the software includes home design as well as landscape design. The software providers understand that users are not professional landscapers nor are they computer programmers, so the software is generally user friendly. Some of the advanced features offered require more technical proficiency. Ideally, the software helps the do-it-yourself landscaper minimize costly labor-intensive mistakes and maximize the total outdoor space opportunity and ultimate living experience.
TurboFLOORPLAN Landscape & Deck IMSI Design
Design the total outdoor space inclusive of landscape, terrain, decks, pathways, gates and other outdoor objects. The encyclopedia includes 7,500 plants with plant growth visualization. Import photos, do 3D modeling, take a virtual tour, plan the site and estimate costs. Software cost is under $50.
HGTV Home & Landscape Platinum Suite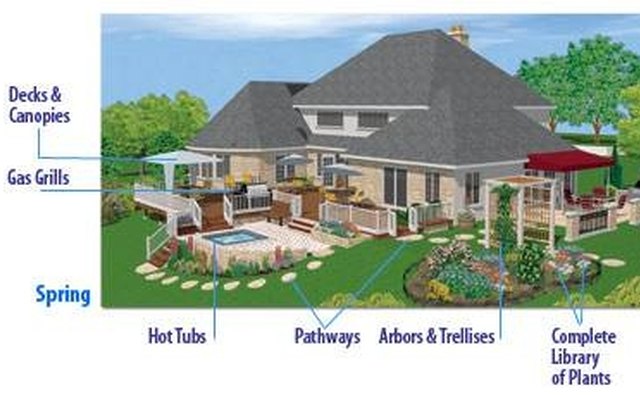 The garden design module includes a 7,500 plant encyclopedia with plant life requirements. Add sprinklers and lighting. Import photos to produce 3D visualization and virtual tours. The landscaping and decks module includes wizards such as a deck-builder wizard. Add patios, fences, gates, walls, lighting, driveways and accessories such as barbecues. View the outdoor space in any season. Software cost is under $100.
Total 3D Home & Landscape HomeDeluxe Suite 9.0
Designed for a novice landscaper, the software also includes home and patio design. Import photos and simulate landscape visions. The software includes a 4,600 plant encyclopedia and eight garden designs including water, fountain and cactus. Use the sunrise and sunset feature to see the landscape at different times during the day. It offers advanced terrain tools and plant growth visualization. Software cost is under $30.
Smartdraw Easy Landscape Design Software
Start with landscape templates and then customize them. There are dozens of plans for landscapes, patios and decks. The symbol library includes plants, sprinklers, brick patterns and ground cover. Software is free to download.
Landscape, Deck & Patio Designer
This software includes a built-in photo editor, 4,000 regional plants to choose from by zip code, a plant growth tool, landscape materials such as pavers and stones and step-by-step integrated videos. There is a special effects animation tool, and predrawn 3D objects can be imported. View the landscape at different times of the day according to the sun, simulate outdoor lighting and estimate landscape cost. Software cost is under $70.
Better Homes and Gardens Plan-a-Garden
Design container gardens or entire yards with this on-line program. Drag and drop over 150 plants into the plan. Add ponds, decks, buildings, fences or sheds to the design. The on-line library includes trees, shrubs, and structures. Work can be saved and printed. Free on-line with user registration.
Warning
Not all of the software runs on all operating systems. Technical support and money back guarantees may not be available.
Photo Credits
photo_camera

Photo Credit: Punch Software