What Is the Difference between DVD Minus and DVD Plus?
by Aaron Parson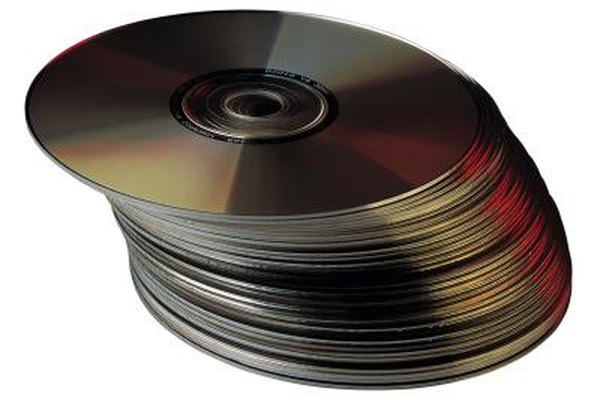 Unlike recordable compact discs, which exist only in the single-use CD-R and rewritable CD-RW formats, DVDs come in four types -- DVD-R, DVD-RW, DVD+R and DVD+RW. While the "R" or "RW" identify the discs as single- or multi-use discs, the plus or dash -- sometimes erroneously pronounced "minus" -- identify the discs as belonging to one of two competing formats. At launch, incompatibility between these formats limited users to one or the other type, but modern DVD burners support all types of discs equally.
Creation
The DVD Forum, a group of electronics industry manufacturers, developed the DVD-R format, which saw its first release in 1997. Two years later, the DVD Forum created the DVD-RW format, which added rewritability to the discs. A competing group, the DVD+RW Alliance, released its own rewritable disc format, the DVD+RW, in 2001. The DVD+RW Alliance added a single-use DVD+R model in 2002.
Usage
Before the release of the DVD+RW, format creators claimed the new disc would only support data storage, as opposed to the video recording uses of the existing DVD-R and DVD-RW. After release, however, the DVD+R and DVD+RW discs quickly found uses in all the same applications as their competitors. In practice, no real usage differences exist between the two formats in either data backup or video recording.
Compatibility
Despite the similar uses of the competing formats, the two types of discs are not universally interchangeable. During the early years of recordable DVDs, most DVD recorders could write to only one format or the other. As neither format offered particular advantages, however, neither won the format war, and before long DVD recorders began supporting writing to both types of discs.
Future
As of 2011, both -R/RW and +R/RW discs are still in production. With both formats working in nearly all DVD drives, consumers often do not even realize the distinction exists. In 2008, DVD6C, a group that licenses the DVD brand name, officially began recognizing the +R/RW format as a real DVD format and set its licensing royalties equal to those of the -R/RW format, cementing the future of both formats as official DVDs.
Photo Credits
photo_camera

Comstock/Comstock/Getty Images