Cordless Phones That Use AA Batteries
by Shannon Johnson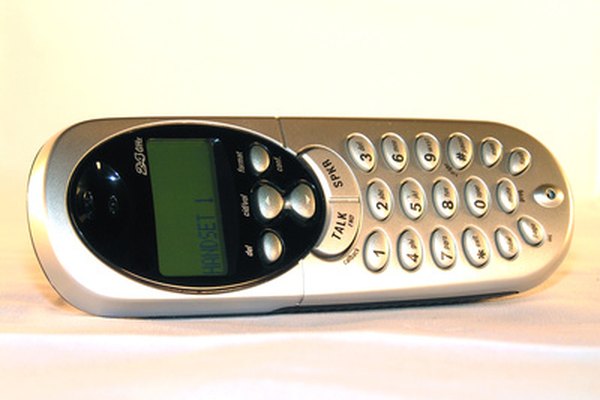 Today, most people choose to purchase cordless phones because of the freedom and range of movement they allow. When selecting a phone, it is important to research various brands and styles in order to buy a phone that will meet all of the individual's needs. Phones come with a variety of features that benefit the user. A specific group of cordless phones that many individuals buy uses AA batteries. An overview of this type of phone is helpful before making the purchase.
VTech DS6121
The VTech DS6121 is a cordless phone that operates using AA batteries. Detailed information about the phone can be found on the VTech website. The phone has many special features, including a digital answering system, caller ID and an internal phonebook that can hold up to 50 numbers. In addition to being cordless, this VTech phone comes with a handset speaker phone that allows the individual to talk on the phone without having to hold the phone the entire time. The VTech DS6121 is a reliable phone that works well in homes and small businesses.
RCA 25210
The RCA 25210 is a cordless phone that is designed specifically for business purposes. It uses AA batteries and comes with two-year warranty. The RCA website lists its many features, including speed dialing for up to 10 numbers, cordless handset, paging features, conference call abilities, privacy settings and various language options. The RCA 25210 is designed to meet the needs of a hectic business environment.
Uniden DECT1480-6C
The Uniden DECT1480-6C is a cordless phone that operates using AA batteries. The Uniden website explains that the phone's features include a digital answering machine, speaker phone, a phonebook capable of storing up to 70 numbers, call transferring, voicemail, caller ID and multiple color choices. The Uniden DECT1480-6C is a high-quality cordless phone that is ideal for homes, and will catch the eye of any consumer in the market for a versatile piece of technology that can also be color-coordinated to match their decor.
More Articles
Photo Credits
photo_camera cordless phone image by Trevor Goodwin from Fotolia.com