How to Find Windows Explorer on a Computer
by Liz Turner

Windows Explorer is the file management system for the Windows operating system. Introduced in Windows 95, it replaced the File Manager from the Windows 3.x operating system. Nearly every time you search for files on your computer you end up in Windows Explorer, yet finding the shortcut to launch it isn't always easy. While it's not always exactly where you think it might be, there are a few ways to navigate your way to it.

Click the "Start" menu and then choose "All Programs."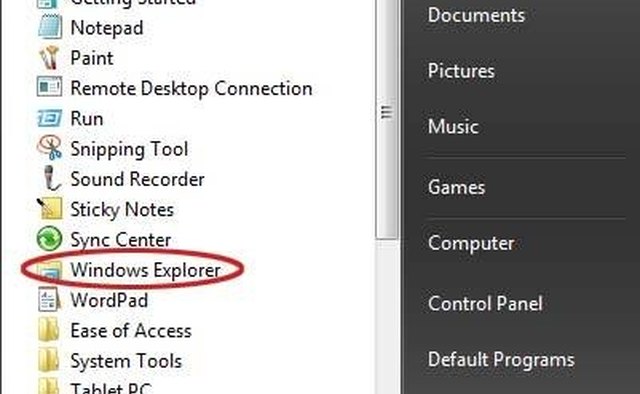 Look toward the bottom of the "Accessories" menu and you should see Windows Explorer. The steps are the same for Windows XP and Vista/7, but the menu layout looks a bit different. This photo shows Windows 7; Vista is essentially the same.
Click the Windows key and "E" if you have a Windows keyboard. This is a shortcut that should also bring up Windows Explorer.
Tip
check

Do not confuse Windows Explorer with the Web browser Internet Explorer. Although the two processes were tied together until Windows Vista, they are not the same thing.
More Articles