How to Use a Nikon Total Station
by KellyB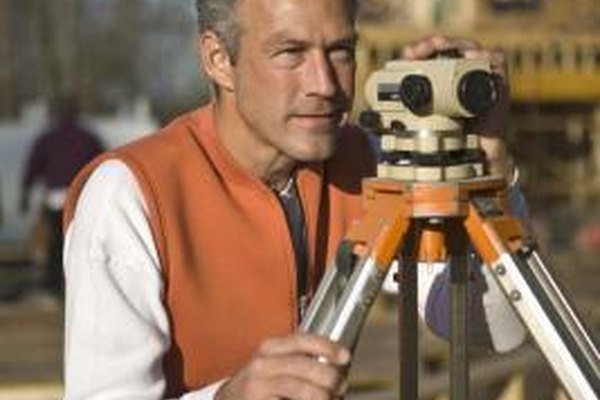 Surveying is an art and science as old as the most ancient civilizations. Documents from the ancient Egyptian civilization state that a form of surveying equipment was used in designing the pyramids. Nikon is a producer of all types of optical equipment including its Total Station, which a surveying instrument that is correct to .0001 degree of accuracy, according to the company. Setting the Total Station up for surveying takes a little time and patience, but it can be done with easy-to-find items.
1
Use a mallet to drive a wooden stake into the ground in the middle of the area you want to survey and place the Total Station tripod directly above this hub stake.
2
Move each of the three legs out in even increments until the top of the tripod is at your chest height. Keep the tripod centered over the hub as you move the legs.
3
Put your foot on the small pedal on each of the feet and push the feet firmly into the ground. Set the Total Station on top of the tripod and tighten the securing bolt through the bottom of the tripod into the base of the station.
4
Find the flat bubble level on the front of the Total Station base. Slide the lengths of the legs up or down to adjust the station until the bubble level is perfectly centered. Do not remove the feet from the ground when you adjust the leg heights.
5
Spin the moving part of the total station, so it makes one complete rotation then look through the viewfinder. Focus the crosshairs on any point ahead of you.
6
Turn the two screws along the right side of the station base simultaneously until the crosshairs along the horizontal axis are level. Make small adjustments and keep checking the level until it is perfect.
7
Level the vertical axis using the single knob on the left of the base until the crosshairs land perfectly centered on the point you are viewing.
References
More Articles
Photo Credits
photo_camera

Comstock Images/Comstock/Getty Images