How to Troubleshoot a PTZ CCTV
by Chyrene Pendleton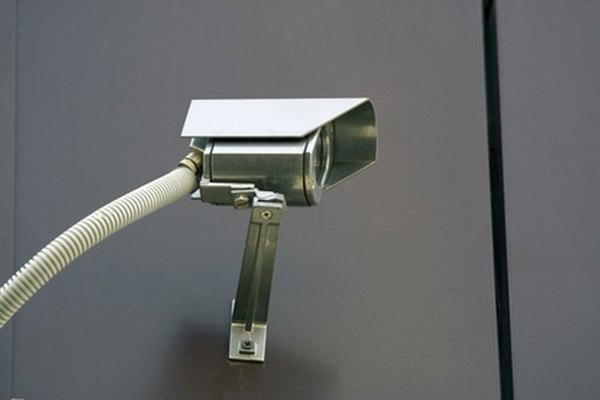 Your PTZ CCTV is a test tool to help CCTV installers and technicians verify the security camera operations, including the Pan, Tilt, Zoom (PTZ) functions. This test tool may include items such as a PTZ test cable, an AC power pack and a local area network (LAN) remote terminator used to test LAN cable, a twisted copper cable used to connect printers, computers and other hardware. The video monitor attaches to the camera, revealing a wide range of functions, all available from the main menu. Before troubleshooting your PTZ CCTV, you must know the camera settings for proper testing of the PTZ camera.
1
Press the "Reset" button located between the external power jack and the UTP cable test jack if your PTZ CCTV does not act normally. The reset button resets your PTZ CCTV to its factory default settings.
2
Check the camera interface type and ensure that your PTZ CCTV supports the same interface if your camera and CamView do not appear to be communicating. As of 2011, cameras usually use the RS-485 interface, since it has more versatility than the older, but popular RS-232 interface. The RS-485 interface allows communication at rates faster than other interfaces, communication without modems and the ability to communicate over longer distances than previously done. Your PTZ CCTV will support the RS-232, RS-422 Simplex and the RS-485 interfaces.
3
Check your PTZ CCTV data monitor for incoming PTZ signals if it appears a PTZ camera is not responding. The data monitor displays the port number, baud rate and PTZ signals in the form of numbers and letters. You should see changing letters and numbers displayed rather than all zeros.
Tip
check

Clean your equipment with a clean cloth dampened with water. Remove stubborn dirt by using a mild detergent, like dishwashing detergent.
Warning
close

Do not allow your PTZ to get wet and never immerse this equipment in liquid to avoid damage to the unit.
References
Photo Credits
photo_camera cctv security camera. image by wrangler from Fotolia.com