How to Organize Files on a Mac
by Christopher Capelle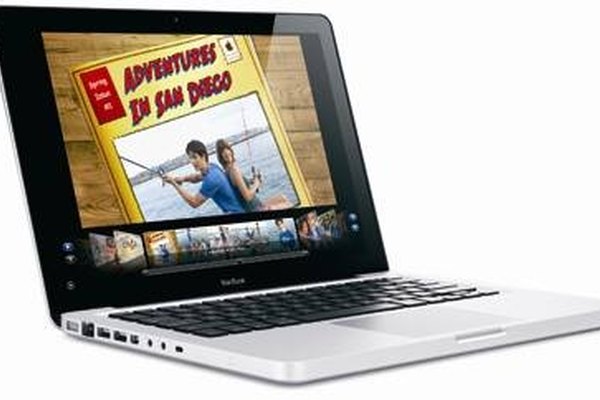 Apple's Mac computers have always been a marvel of both form and function, both in the physical sense as well as its software, particularly OS X, which was introduced in 2001. While Apple does an outstanding job organizing some files (music in the iTunes Library, pictures in the iPhoto Library), one drawback of the system is that users are "on their own" as far as keeping personal files organized, as Apple hasn't included anything resembling a built-in system in its OS. While some users keep things in neat and precise order, others are virtual pack rats on both their desktop and various folders throughout their hard drive.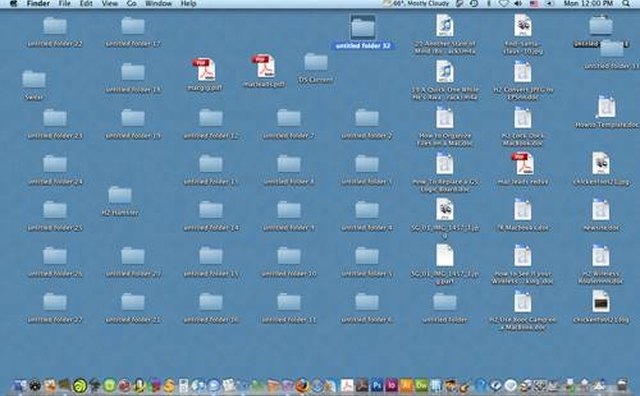 Create a new folder (Apple-Shift-N) on your desktop and name it "Desktop Files To Be Sorted." Drag all of the files and folders on your desktop into this folder. Create a second folder on your desktop, and name it "Hard Drive Files To Be Sorted." Drag all your personal files and folders that reside on your hard drive (which doesn't include the Applications, Library, System and Users folders) into this folder. Apart from the hard drive icon, the only items on your desktop should be these two folders.
Create a third folder on your desktop, and give it a name that indicates that it is your main folder, perhaps something like "Master Folder." Double click on Master Folder and create the following folders inside of it: Admin ' Home ' Work ' This means that every one of your files and folders will reside in one of three of these subfolders. Each of these will have two or more subfolders inside of it that will allow you to find anything quickly. Note that this is the simplest file structure for the home user. Mac users at work or those who freelance might require a more complex file hierarchy.
Customize each of the folders by adding subfolders tailored to your specific needs. For example, "Admin" subfolders could include insurance information, family records and children's schoolwork and activities; "Home" subfolders could include financial information, anything to do with hobbies at home (eBay or recipe files, for example) and anything house or home-related; "Work" subfolders could include freelance work, backup files from your job and resume and job search information.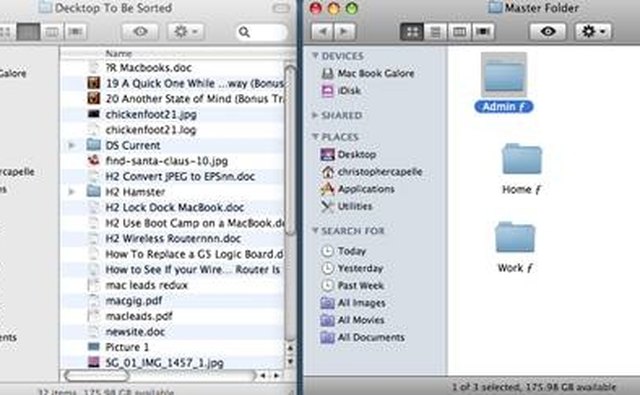 Open the "Desktop Files To Be Sorted" folder. Drag the window to the left-hand side of your screen, and open the "Master Folder." Drag that window to the right-hand side of your screen. Then start dragging the files into their appropriate folders within the "Master Folder" (or the appropriate subfolders within the "Master Folder"). This is also a good chance to trash any unnecessary files and folders. Repeat this process with the "Hard Drive Files To Be Sorted" folder. When both the desktop and hard drive folders are empty, drag them into the trash.
Use a software package to make a virtual catalog of your files. While Apple's Spotlight program (built into OS X) is decent enough, most users find that a third-party application such as Tri-Catalog makes locating files and folders much faster and much more intuitive.
Back up your files. In the event of hard drive failure or theft, you'll be kicking yourself if you don't take the time to properly back up your files. Professional recovery services can cost thousands of dollars, so avoid it by backing up your files on a regular basis, which is a simple and inexpensive process. A three-tier backup is recommended: An occasional backup of the Master Folder on DVD, a Time Machine backup of the Master Folder to an external hard drive (USB or FireWire) on a regular basis and an online backup using one of the online data backup services, such as Mozy. See the References section below for more information on these backup schemes.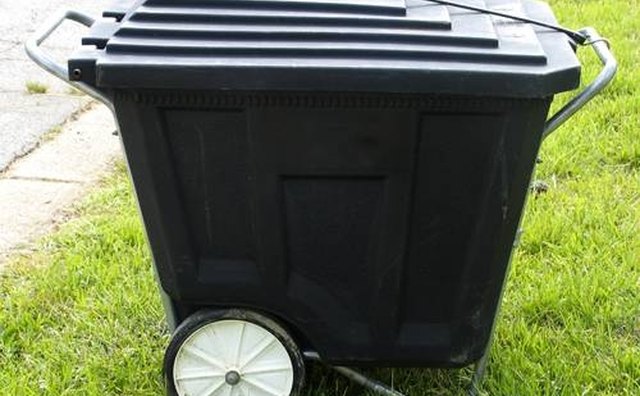 Review your files on an annual basis. You may want to archive files that have no current significance, but are worth keeping, and renew some items (such as an annual medical expense spreadsheet). The idea is to keep your Master Folder streamlined, and avoid the file duplication and clutter that you previously had.
Tip
check

Some online backup companies offer free or low-priced services for home and small office users. Don't forget to look in your Home folder as well as your Documents folder to find orphan or misplaced files. Backup your photos, music and movies as well.
Warning
close

Never backup files on a flash drive, as they can be unreliable.
More Articles