How to Optimize a MacBook
by Avery Martin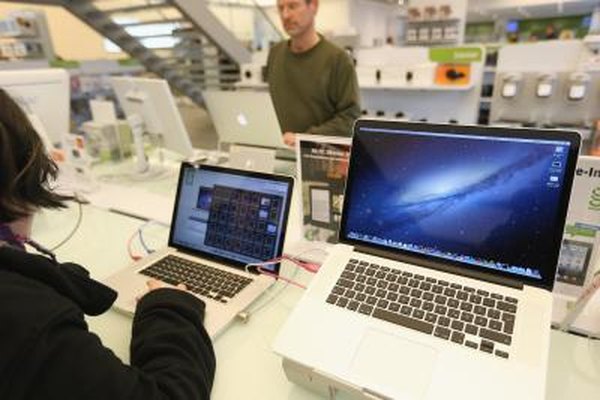 Your MacBook comes with several default settings that work to optimize your computer in the background. You can manually configure many of these settings to further conserve battery life and manage your files and settings. You don't need to buy any software or programs to optimize your MacBook. Many of the hidden settings and a few tricks provide all the resources you need to keep your MacBook running at top performance.
Automatic Light Sensors
Many MacBook computers come with automatic light sensors built into the iSight camera. The camera detects ambient light and automatically adjusts the display and keyboard backlight to compensate for varying lighting conditions. The backlight often comes on during the day when you don't need additional light. You can use the F5 and F6 keys to manually change the keyboard brightness. The F1 and F2 keys provide a way to increase and decrease the brightness of the monitor.
Permissions Repair
MacBooks can develop permission problems when the system is shut down improperly, the battery dies before you get a chance to log off your account or you drop or bang your MacBook while its writing files, causing errors to the file system. Run the Disk Utility available in the Utilities folder and select the "Repair Disk Permissions" option to check and repair any incorrect permissions. Incorrect permissions can result in hard drive shutdowns, the inability to access certain files and other performance issues.
Battery Life
Batteries tend to heat up while charging, which increases the overall temperature of your MacBook. When possible, charge the battery and use it until the battery runs down completely before recharging again. This helps keep your battery running at full capacity and prevents many heat-related issues that can slow down your system. Click "System Preferences" in the dock and select "Energy Saver" to change the power settings to further optimize your system. With older operating systems, you can select the option to use "Higher Performance" and take a hit to your battery life or use the "Better Battery Life" option to conserve power. If your Mac runs OS X 10.8 Mountain Lion, click the box next to "Automatic graphics switching."
Security Optimizations
Keep your computer secure by enabling the built-in firewall. You can enable the firewall in System Preferences by selecting the "Security & Privacy" option. Click the "Firewall" tab and click the "Turn On Firewall" button. The firewall works to protect your system from unauthorized applications and rogue services that might otherwise accept incoming transmissions. For further security, click the "Firewall Options" button and check the box to "Enable Stealth Mode." This option blocks attempts from unauthorized computers to access your computer on the network.
Disk Defragmentation
A fragmented disk can slow down your system and consume additional battery life in the process. While the Mac operating system automatically optimizes files in the background, it works best when working with small files. MacBooks that come with solid state drives installed don't require any defragmentation. In fact, defragmenting an SSD drive reduces the life of the drive. For a traditional mechanical hard drive, you can manually defragment files by moving all your files to an external drive and then moving the files back to your MacBook. You should only defragment if you run video or music-editing applications with heavy file usage.
Version Information
Information in this article applies to Macs running OS X 10.8 Mountain Lion. It may vary slightly or significantly with other versions or products.
Photo Credits
photo_camera

Sean Gallup/Getty Images News/Getty Images