What May Have Caused My VAIO Laptop to Not Run in Full Screen?
by Joe Murray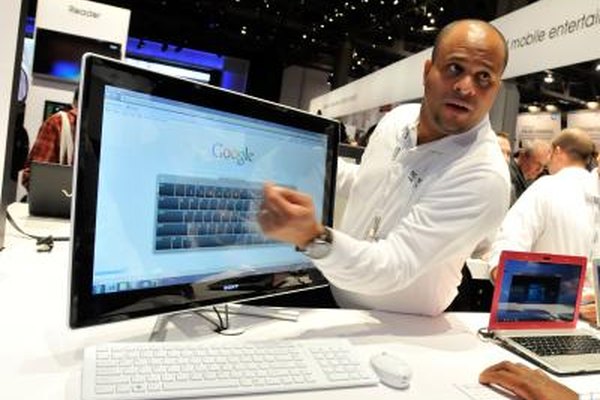 Any number of conditions can cause a laptop or a desktop PC not to display a full screen image. The screen display is a result of several different components working simultaneously to bring an image to the face of the monitor. Screen resolution settings can be a factor or the condition of the screen itself may be a cause of the problem. The Sony VAIO laptop line accompanied with the Windows operating system provides a few methods to analyze this condition.
Screen Settings
After booting the laptop, right-click the mouse to bring up the graphics properties dialog box. Under the heading "Graphics Options," go to "Panel Fit," where you will find settings for screen size. Make sure "Full screen" is checked. If it is checked, try the other settings to see if this solves the problem.
Separate Monitor
The next step requires a separate monitor. Any monitor will do. If you have a desktop monitor, detach the video cord and plug it into the outboard monitor socket on your VAIO laptop, generally found on the left side of the unit, although this varies with different models. Reboot the laptop and click the "F7" key while depressing and holding the "Fn" button on the lower left side of the keyboard. This will bring up an image on the external monitor. If the image is not full screen, try adjusting the screen settings. If you still do not have a full screen resolution, you may have component problems.
Video Card Malfunction
The most common problem with failure to achieve full screen resolution after trying the above has to do with the video component card on the Sony VAIO motherboard. If you are well acquainted with the inner workings of a laptop, refer to the Sony VAIO user manual as to how to replace the video card.
Component Replacement
If you are not familiar with the inner workings of a laptop motherboard, refer the problem to a qualified technician. Video card replacement cost should be under one hour of labor plus the cost of the replacement card. Make sure to inform the technician of all the previous steps you have taken before bringing your Sony VAIO to the shop. If your Sony laptop was purchased within one year of the problem arising, your warranty will apply.
References
Photo Credits
photo_camera

David Becker/Getty Images News/Getty Images