How to Install the Windshield Holder for a TomTom
by James T Wood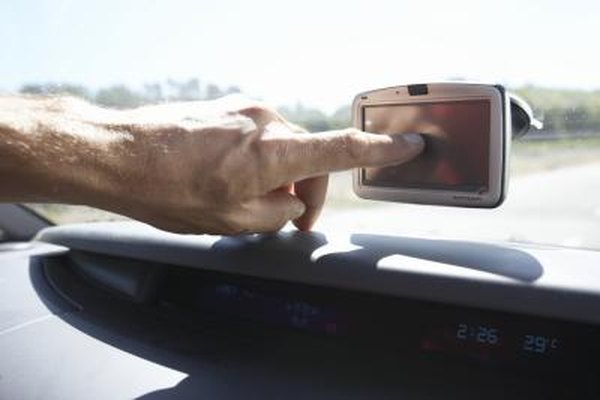 TomTom GPS units come with a windshield holder. The holder can be easily installed and removed as necessary. If you don't have the holder that came with your TomTom you must either buy a replacement for your specific model or use a universal windshield holder. You can determine which right holder is right for your model at the TomTom website. If you want to mount your TomTom to the dashboard, you can use an adhesive disc with the EasyPort mounting system that came with your GPS.
1
Clean and the inside of the windshield using window cleaner and thoroughly dry it using paper towels or a clean rag.
2
Plug the TomTom GPS unit into the car charger and the charger into the electrical port on your vehicle. Do not turn on the car or power up the GPS unit; this is only to determine the range of mounting locations.
3
Attach the windshield mount to the back of the GPS unit.
4
Lift the TomTom GPS, with the mount attached, to the windshield. Find a location where you can easily see it while driving, the charging cord reaches and doesn't get in the way of any dash-mounted instruments.
5
Press the mount against the windshield in the place you want it to sit.
6
Hold the mount against the window with one hand and, with your other hand, flip the TomTom out and away from the windshield. The rotating part of the windshield mount opens up so you can access behind the GPS unit.
7
Twist the knob on the window mount clockwise until it clicks.
Tips
check

This is a pressure system that will hold the suction cup to the windshield until you're ready to remove it. Twist the knob counter-clockwise to release the pressure and remove the windshield holder.

check

If you aren't sure which TomTom model you have or if you've lost the original mounting kit, you can use a universal mounting system to hold your GPS while you drive.
Warnings
close

Do not mount your GPS unit in a location that obstructs your visibility while driving.

close

Don't manipulate the GPS while driving. Set your course while the vehicle is stopped and then drive, or have a passenger handle the navigation duties.

close

Check your local laws regarding mounting objects in your vehicle. It is against the state code in both California and Minnesota to drive with something affixed to the windshield. Do not use the windshield holder if you are -- or will be -- driving in California, Minnesota or a locality with similar laws.
Photo Credits
photo_camera

Rayes/Digital Vision/Getty Images