Corel PaintShop Pro Vs Adobe Photoshop
by Todd Bowerman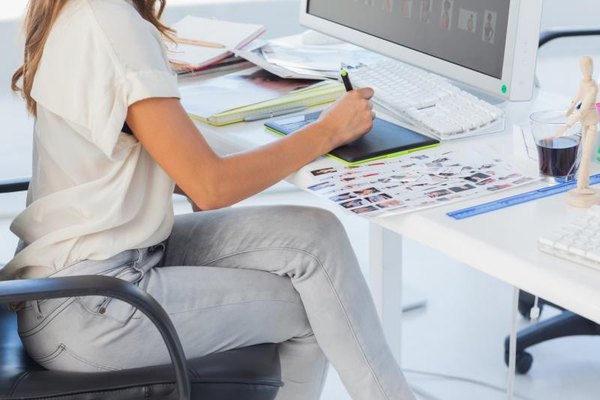 Adobe Photoshop and Corel PaintShop Pro are powerful image editing solutions aimed at both professional and hobbyist visual artists. Both applications offer a robust collection of tools and functions, but the two programs are far from identical. Advanced features in one may not be available in the other, making Photoshop the right tool for one task and PaintShop the right tool for another. Features and costs must be weighed carefully when deciding between the two programs.
Software Pricing
One of the biggest differences between Photoshop and PaintShop Pro lies in how the applications are priced. As of mid-2014, PaintShop Pro X6 is available on Corel's website for a one-time payment of $79.99. This purchase gives you access to all of PaintShop Pro's features. Adobe's payment structure is slightly different; users no longer buy software but instead pay for access to the Adobe Creative Cloud and specific software bundles. An individual "Photography" membership includes Photoshop and Adobe Lightroom and costs $9.99 a month with an annual commitment or $119.88 a year, while access to all of Adobe's Creative Cloud apps costs $49.99 per month with an annual commitment, $74.99 per month without, or $599.88 per year.
Included Items
Fonts, brushes, and filters are core components of the photo editing experience. These tools can all be manually created or downloaded from other sources no matter which software you use, but if your work is font or filter heavy it's best to know what to expect in the base package of the software you're buying. PaintShop Pro X6 includes 190 fonts, while Photoshop includes 300. PaintShop Pro ships with 10 brushes ready for use; Photoshop includes 65. PaintShop Pro includes 192 photo filters to Photoshop's 92.
Operating System and File Formats
For some users, the choice between Photoshop and PaintShop Pro will be determined by operating system. Adobe's solution is the only application of the two that's available on both Mac OS X and Windows; PaintShop Pro is a Windows-only application. However, it is possible to run PaintShop Pro on a Mac by booting the Mac into the Windows operating system with Boot Camp, assuming you have a copy of Windows. PaintShop Pro offers 82 file formats for saving images compared to Photoshop's 26. Both can save in common formats such as PNG, JPEG, TIFF and BMP.
Responsiveness of Actions
If you're a working professional who relies on image editing as part of a workflow, a smooth and responsive interface is critical for staying on track. Reviewers from Tech Radar and PC Mag both noted that PaintShop Pro has slightly slower performance than Photoshop and that the interface isn't quite as attractive or convenient. However, both publications gave PaintShop Pro high marks as a Photoshop alternative, with this slowness being one of few listed downsides to the application.
Photo Credits
photo_camera

Wavebreakmedia Ltd/Wavebreak Media/Getty Images