The Best Cameras for Wedding Photography
by Elizabeth Streeter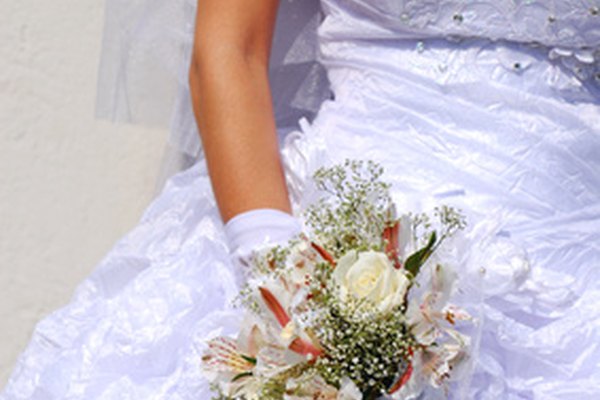 You never get a second chance to shoot a couple's big day. This is why camera quality matters. For weddings, consider single reflex lens (SLR) cameras that will allow you to change lenses. Your camera choice should also deliver exceptional picture quality and shoot quality photographs in low-light areas.
Canon EOS 7D
The Canon 7D features a rugged body and a cropped sensor. Its magnesium-alloy body enhances its resistance to different types of weather. Canon equipped the EOS 7D with an 18 megapixel CMOS sensor. This camera has an ISO range from 100 to 6400, a range that expands the camera's sensitivity to light. The Canon EOS 7D offers an option to expand the ISO to 12,800. As of January 2011, Canon's EOS 7D retails around $1,699 for the body.
Nikon D300S
As of January 2011, the D300S body is available for $1,699. Nikon's D300S has a 12.3 megapixel cropped sensor. The Nikon D300S features an ISO range from 200 to 3200 with expandable settings of 100 and 6400. The D300S also offers dual media slots, allowing you to use CompactFlash and SD/SDHC cards. Both cards can be used to expand memory. Alternatively, one card can be used for the main pictures while the other card can be used as a backup. This comes in handy when shooting weddings. To enhance durability, Nikon also constructed this camera with a magnesium-alloy body.
Nikon D700
Full-frame cameras have many advantages over cropped-sensor cameras such as the Canon 7D and Nikon D300Ss. Full-frame cameras offer better performance and lower noise levels when taking photographs in low-light areas such as churches. These cameras often deliver better color and a better ability to shoot extra-wide shots, a plus when photographing an entire wedding party in one shot. The D700 features an ISO range of 200 to 6400. Plus, the camera can be expanded to 25,600. For ruggedness, it offers a magnesium-alloy body. As of January 2011, the Nikon D700 (body only) retails from $2,699.
Canon 5D Mark II
An alternative to the Nikon D700 is the Canon 5D Mark II. A full-frame camera like the Nikon D700, Canon's 5D Mark II features 21.1 megapixels. Its ISO ranges from 100 to 6400 with the option to expand to 50 at low and up to 25,600 at high. Unlike the Nikon D700, the Canon 5D Mark II is capable of recording full high-definition video. As of January 2011, the retail price for the body is around $2499.
Nikon D3S
If you have a bit more money to spend, consider the Nikon D3S. The Nikon's D3S has a high ISO, ranging from 100 to 102,400. It also features superior color accuracy. Popular Photo rated the color accuracy of the Nikon D3S as excellent. As of January 2011, the Nikon D3S retails for around $5,199.
More Articles
Photo Credits
photo_camera Wedding bouquet the bride on background of wedding dress image by Aliaksandr Zabudzko from Fotolia.com