How to Add Figures in Microsoft Excel
by Contributor

You can put away your calculator, there is an easier way to add up a number of figures at one time. This is especially handy for small businesses or during tax time. With a few simple steps, you can create a and even save figures in a Microsoft Excel spreadsheet. You can add figures in Microsoft Excel even if you have no previous experience using spreadsheets.

Open up Microsoft Excel to create a new file where you will enter the figures.
Click file ->save on the top menu and give your Excel document that will contain the figures a name. This menu is located all the way in the top left corner of your screen.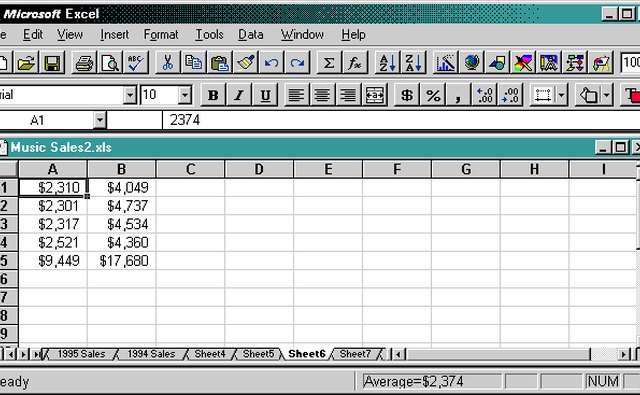 Enter figures in Microsoft Excel cells in a column format. Use your down arrow or enter key to move to the next cell. You will know what cell you will be entering figures as it has a black box surrounding it.
Highlight the entire column at once by clicking and dragging your mouse. Do not let go of it.
Click the "Autosum" button on the top of the Excel worksheet. A photo example of "Autosum" is shown within this article. You will want the total to appear just below all the figures. Click "bold" on the top menu of Excel while still on the figure total to make it stand out more.
Highlight the column once more and click the "dollar" sign on the top menu to make your figures appear as dollars.
Click the "save" button once again to save your file. Remember the file name so you can recall your figures later.
Tip
check

If you get lost or enter incorrectly, click the "undo" icon on the top toolbar menu.
More Articles