AT&T Signal Booster & Wi-Fi Problems
by Emma Nichols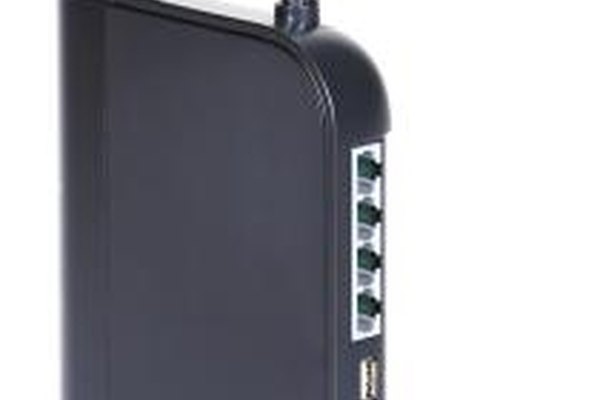 AT&T's signal booster, called the MicroCell, is a device you can attach to your Internet connection at your home or office to get better AT&T service for your cellphone. However, when connecting the device to your Internet, you can run into problems with the signal booster and with your Wi-Fi, such as slow connection speeds and dropping the signal. There are several ways to improve these issues, including resetting your connection, staying within the signal range and not using a third-party modem or router.
Signal Range
All MicroCell devices have a signal range of 40 feet from the device, which is 5,000 square feet total. This means that you will only pick up the MicroCell's signal within that distance. If you have a large home or office or are trying to use the MicroCell nearby, you may not pick up the signal due to the distance. If you are experiencing this problem, you can get additional MicroCell devices to place outside of the signal range to create a new one.
Third-Party Modem or Router
If you are using AT&T's U-Verse with the MicroCell device, you can run into problems if you use third-party modems or routers. AT&T provides you with a modem and router when you sign up for Internet service, but some customers opt to use routers and modems they already own or prefer to use from other companies. These devices can have problems connecting to the Internet because they may not be as compatible with AT&T's service as the devices offered by AT&T, which will then give you poor MicroCell service.
Broadband Service
If you are trying to use the AT&T MicroCell without any broadband Internet service, the MicroCell will not work. The device does not replace broadband Internet service for your home. To function properly, it needs an Internet connection. The device connects to your Internet service to make it perform better and give you a better signal on your AT&T phone.
Reset Connection
Sometimes various small problems and issues with the signal booster can be fixed by resetting the connection. To reset the connection, you need to do a power cycle. This will disconnect and reconnect your service, generally making it run faster. To do a power cycle, shut down your computer and unplug the router's power cord for 10 seconds. Then plug the cord back in and wait for the "Residential Gateway" light to blink. Once it does, turn your computer back on. The connection will be stronger.
Photo Credits
photo_camera

Thomas Northcut/Photodisc/Getty Images