Ways to Use Blackboard for Teachers
by Peg Ehlen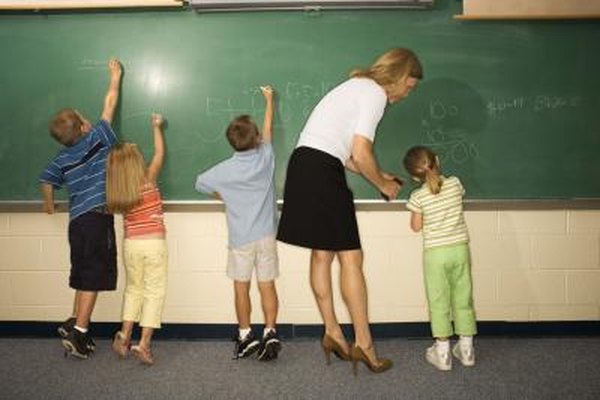 You may love the online learning environment or may resist it. Either way, you can learn to use it to your advantage. In both traditional and virtual classrooms, the Blackboard software can help you manage your classroom tasks and enhance your rapport with students. Key features in Blackboard allow you to grab your students' attention, reinforce positive values, enhance course content and simplify grading.
Engaging Students
Use audiovisual and interactive features of Blackboard to engage students. For example, create a course banner and customize the color and texture of the tabs. Within your content tab, embed a YouTube video or a SlideShare presentation by using the Mashup tool. Through Discussion Boards, require students to interact with one another, responding to your prompt and replying to other students' posts. Other interactive features include chats, blogs, wikis and a global learning network -- all accessible through your students' mobile devices, according to Blackboard Inc. If your Blackboard site includes StudyMate or a comparable application, create games and flash cards to reinforce learning.
Promoting Values
Use Blackboard to encourage positive behavior. When students use Blackboard, lost assignments become less likely. After a student attaches an assignment file, you can see the exact submission time and grade it with the rubric feature to ensure fairness. SafeAssign, integrated plagiarism-detection software, can check written assignments and promote student honesty. Testing features can also promote fairness. If students take the same Blackboard test in class, randomize the questions to avoid cheating. Reinforce positive performance through your feedback to assignments and Grade Center comments. Send individual or group emails through Blackboard to offer positive reinforcement.
Storing Course Content
Teachers spend a lot of time revising their presentation material for accuracy and interest. By saving your latest revisions in Blackboard, you automatically store your most current files, PowerPoints and links, screening out the debris your flash drive or computer might have collected. For an in-class presentation, simply click on a file and project it, rather than fumbling with a flash drive. Students can also access the content from home when they review for a test. When you finish teaching a course, save the Blackboard site with its changes, and upload it for the next year or semester. The University of Kansas encourages teachers to use the Student Preview feature to see how students view the content.
Grading More Efficiently
Use Blackboard to organize your grading. The Needs Grading Page acts as a reminder, indicating which electronically submitted assignments you haven't graded. The Grade Center also reminds you to grade submitted assignments that appear in green with an exclamation point. Here you can click on Work Offline and download an Excel file of all students' grades, an insurance policy should Blackboard ever crash. The Grade Center and your own Excel file can provide an instant assessment of each student's overall percentage or point total in the class.
References
Photo Credits
photo_camera

Jupiterimages/Stockbyte/Getty Images