How to Make Money Surfing the Internet with Scour
by Contributor
One of the things that I try to do on my personal journey down the freelance writing and web development road is share things that work for me personally and those that don't for making money on the Internet. I write about 40 to 50 freelance articles a week across various web sites and find myself doing a fair bit of Internet search based research to support my writing. Unfortunately, I have never been quite satisfied with any one of the 'Big Three' search engines (Google, Yahoo, MSN), but came across Scour.com the other day which lets you see results from all three search engines. Not only that, but if you sign up for a Scour account you can add another passive income stream to those that you already have established on-line just by using their search toolbar. Just on your own, it works out to about $50 USD every three weeks if you maximize the daily amount of searches permitted through the site, but that is $50 you or I wouldn't see by going directly through the major search engines. Scour also incorporates a voting and comment feedback system to help deliver relevant search results, which though not required, do help you get to the $50 goal faster.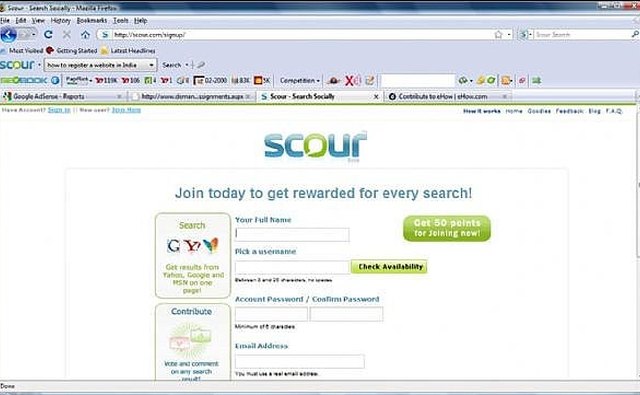 First, visit the scour website and sign-up for an account, http://www.scour.com/invite/javanx3d which is hyper-linked in the references below.
Download the Scour toolbar once you have registered for your Scour account. If you are one who does not like to download toolbars, you can still use scour by searching through their main web-site after you have registered.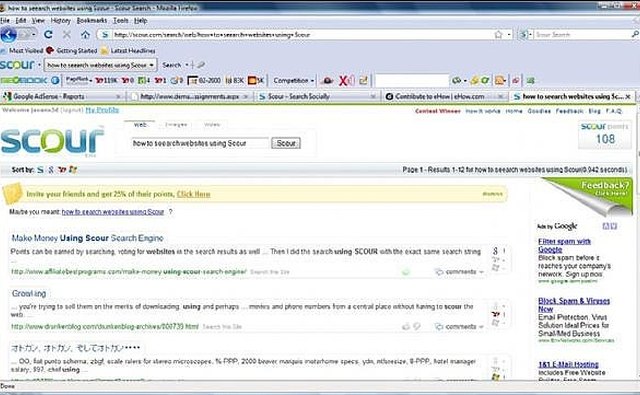 Conduct your first Internet Search using the Scour toolbar by typing in the topic you desire additional information. You will see your Scour point total in the upper-right hand corner of the web page that is displayed. At the time of this writing, Scour provides 50 bonus points for registering with the site.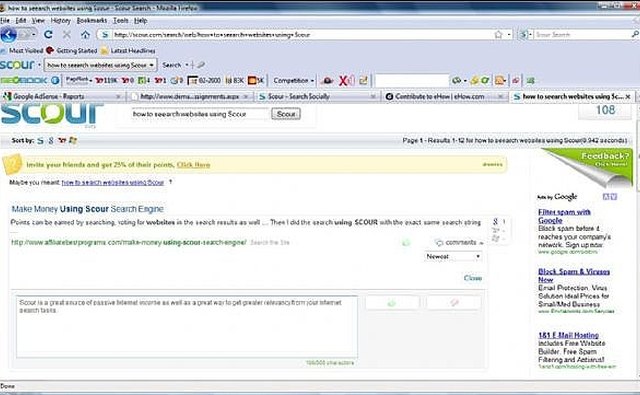 Vote on the relevancy of the search results by selecting the "Thumbs Up" or "Thumbs Down" icon below each search result. You may also comment on the search results by selecting the comment field with your mouse to enter your thoughts on the relevancy of the search.
If you like Scour, extend invitations to your friends. Scour has an affiliate program that gives you credit for 25% of the Search credit your friends obtain through their search efforts and will help you hit the $50 and $100 payout levels more quickly. The link at the bottom of this article is my affiliate link if you would like to use it or just visit Scour directly to register for your account!
Tips
check

Scour pays you money based on a point system. The current system employed grants you one point per search, one per vote, and one per comment with a maximum of three points per search.

check

There is a cap of 300 points per day from your search efforts. No cap exists for members who sign up as your affiliate.

check

Scour cash-out point levels are: 6,500 points can be redeemed for $25 USD, 12,500 for $50 USD, and 25,000 for $100.
Warning
close

At the time of this writing, you can only use scour if you are a resident of one of the following countries: Canada, France, Germany, Italy, Netherlands, Poland, Spain, U.S., and U.K.
More Articles
Photo Credits
photo_camera

Screen shots taken by the author.