How to Make Flash Animations for YouTube
by William Harrel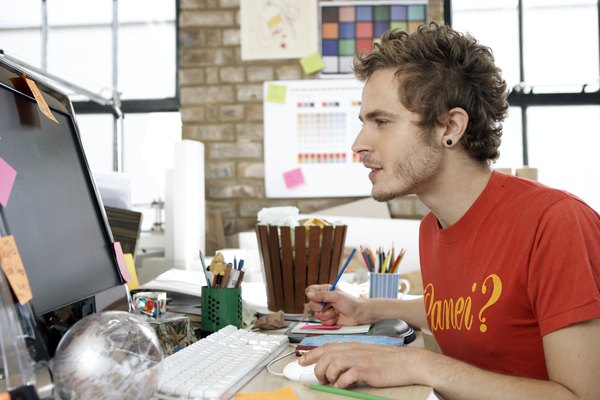 While it's fairly easy to create Flash animations for YouTube, this popular video delivery site does not support Flash's native SWF movie file format. This means that a lot of the effects and features supported in Flash movies—such as hyperlinks and interactive buttons—do not work in YouTube movies. You can, however, create linear, streaming Flash animation content that plays on YouTube just fine. The trick is to export your Flash movie files to a video format supported by YouTube.
Creating Flash Animations for YouTube
1
Create a Flash animation movie as you normally would, or open an existing Flash movie you want to deploy on YouTube. Keep in mind that interactivity links and buttons won't work. So leave them out or remove them from existing movies.
Nowadays, YouTube displays all videos in a high definition (HD widescreen) 16:9 aspect ratio video player, rather than the standard 4:3 aspect ratio. What this means is that if you create and upload videos at resolutions other than 16:9 widescreen format, they'll display in the player with borders around the video. You can avoid this by designing your Flash movies at one of the HD widescreen resolutions: 1280×720 (720p) or 1920×1080 (1080i).
2
Click "File" on the menu bar and choose "Export," and then select "Export Movie" from the sub-menu. This opens the Export Movie dialog box.
3
Click the "Save as type" drop-down and choose video file format. Flash can export to AVI or MOV video formats. The MOV format is a more modern, versatile format.
4
Type a name in the "Name" field and click the "Save" button. This opens the QuickTime Export Settings dialog box.
5
Click the "QuickTime Settings" button to open the Movie Settings dialog box.
6
Select the "Compression Type" drop-down and choose "MPEG-4 Video" from the drop-down. This is the preferred format for YouTube. Click "OK" to return to Movie Settings.
7
Click the "Size" button to open the "Export Size Settings" dialog box. Click the "Dimensions" drop-down. If your movie's dimensions match one of the display dimension settings in this list, choose that setting. If not, choose "Custom" and type the movie's dimensions in the fields next to the drop-down. Click "OK" to return to Movie Settings. Click "OK" again to return to QuickTime Export Settings.
8
Click the "Export" button.
9
Log on to your YouTube account and upload the file.
Tip
check

Later versions of Flash ship with Adobe Media Encoder. Once you've exported the Flash movie to a video, you can use it to encode your video files for YouTube. Media Encoder provides many more formatting options than Flash.
Warnings
close

If you try to export a Flash movie to video that contains Flash features that aren't supported in a streaming video format, such as interactivity, the export will probably fail.

close

YouTube supports videos up to 10 minutes long and up to a 2GB file size. If you upload longer or larger videos, YouTube deletes them.
References
Photo Credits
photo_camera

Ciaran Griffin/Lifesize/Getty Images