Can an iPad Be Connected to a Stereo?
by John Mitchell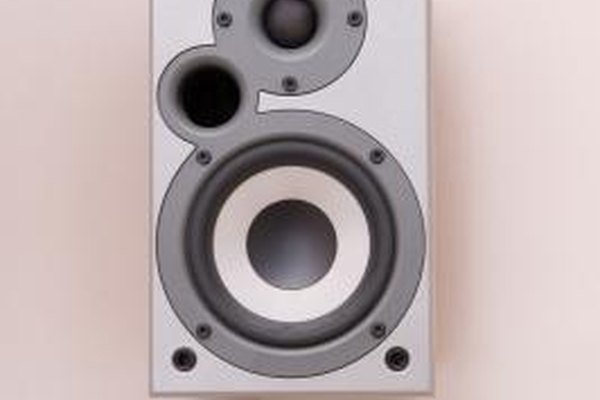 The iPad is a popular tablet computer designed and sold by Apple Computer. The built-in "iPod" app lets you listen to your favorite music from anywhere, with a 3.5mm stereo headphone jack and a built-in speaker. If you would like to listen to your favorite songs from a stereo system, you have a few options available, including a 3.5mm stereo cable, Bluetooth speakers, FM transmitter and docking speakers.
3.5mm Audio Cable
The most convenient and inexpensive way to listen to your iPad music collection on a stereo system is with a 3.5mm audio cable. You plug the cable into the iPad's top mini-jack and connect it to the home stereo system mixer unit. On the system controls, you will most likely have to adjust it to "Aux" or auxiliary input channel. Alternatively, you can listen to your iPad while driving in the car, if you have a tape deck and cassette tape adapter kit.
Bluetooth Speakers
Bluetooth speakers are similar to Bluetooth headphones. Both receive a signal from iPad and stream the music for your listening pleasure. The music playback is controlled exclusively through the iPad device. If you don't have Bluetooth speakers, you can always purchase a Bluetooth stereo adapter. Belkin, which manufacturers a lot of Apple accessories, has a product called the Bluetooth Music Receiver, which connects to your stereo system and plays your music from the iPad. Belkin sells the product for around $50 as of the date of publication.
FM Transmitter
If your stereo system has a built-in radio receiver, you can purchase a FM transmitter that you hook up to your iPad. Then you tune the radio station to the transmitter's output frequency. After connecting the two devices, you can listen to your music collection over the FM bandwidth and enjoy your music from a car radio or home stereo.
Docking Speakers
In an April 2010 article for Macworld.com, Dan Frakes wrote, "Perhaps the most popular iPhone and iPod accessories after headphones, speaker docks are also among the least compatible with the iPad." This lack of compatibility arises because the iPad base is wider than the iPhone, iPod or iPod touch, so the dock connector port will not line up correctly on most speaker docks. You must buy a dock extender cable to make the iPad work with your existing speaker dock.
Photo Credits
photo_camera

Jupiterimages/Photos.com/Getty Images