What Are the Zooming Capabilities of the Kindle?
by Andrew McClain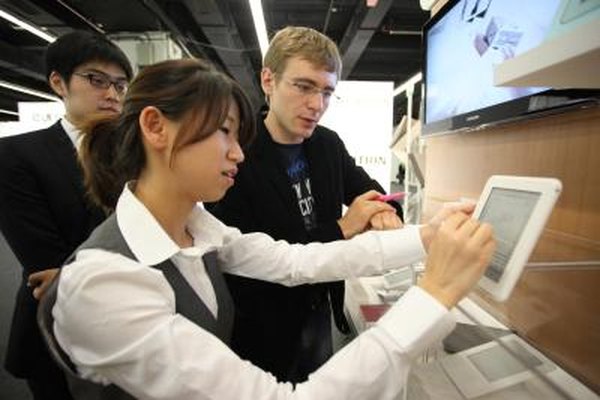 Amazon's Kindle gives you a lot of flexibility when it comes to reading. Not only can you carry hundreds of books with you, but you can also control how you see the words shown on the Kindle's screen. Depending on the document type, the Kindle gives you several controls that let you zoom in on the text and images, in both Kindle-format documents and PDF documents.
Images in Kindle documents
For Kindle documents, the Kindle has a basic zoom feature for graphics. To zoom in on a picture using the five-way control, position the cursor over the picture. The cursor will look like a magnifying glass. Press down on the five-way control to zoom in on the picture. The picture will fill the screen. If your screen is vertically aligned, it will switch to horizontal. The only object on the screen will be the picture.
Font Size
You can also resize the text in Kindle documents. To do so, open a Kindle document and press the "Aa" button on the Kindle. Use the five-way control to change the text from its smallest size, roughly 7-point text, to its largest size, roughly 40-point text.
Words Per Line
Another setting is Words per Line, located just below the font size on the "Aa" button menu. Use the five-way control to choose whether you want fewest, fewer or the default number of words per line. Depending on your font size and the length of the words, this can vary from approximately 10 words (fewest) to 20 words (default).
PDFs
You have more zooming options with PDFs on the Kindle. You can change the zoom on a PDF to "fit-to-screen," 150 percent, 200 percent, 300 percent or "actual size." The default setting is "fit-to-screen." To change the zoom on a PDF, open a PDF on your Kindle. Press the "Aa" button on the Kindle. Use the five-way controller to change the zoom setting. This affects both text and graphics.
Photo Credits
photo_camera

Ralph Orlowski/Getty Images News/Getty Images