Wireless Cable Modems Compatible With Comcast
by Ben Jones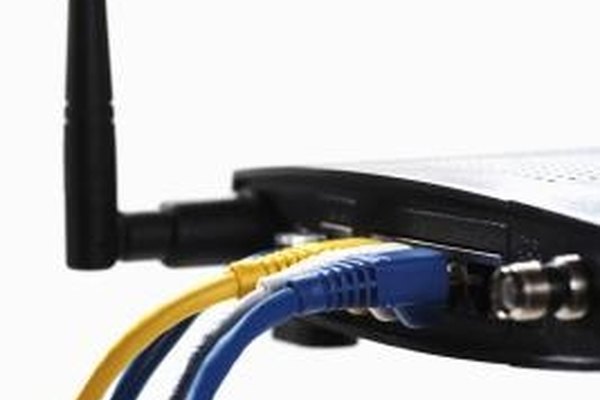 A wireless cable modem is a networking device combining a couple of different technologies. It is part cable modem and part wireless router. Some models of wireless cable modem are stand-alone systems that connect to the computer by way of an Ethernet cable, while others are cards you can install within the computer itself. A number of wireless cable modems will work with Comcast cable Internet service.
Netgear CG814
The Netgear CG814 series of wireless cable modems is one of Comcast's default devices for renting to subscribers of its cable Internet service. This router/modem combination utilizes the 802.11g wireless local area network specifications on the 2.4-2.5 GHz frequency bands. It has a single wireless antenna, four Ethernet ports and one USB port for connecting to home devices. It requires AC power and an AC power adapter ships with the model. It has one coaxial cable input for connecting to the Internet. The device has a graphical HTML interface for configuring settings, which includes setting both WEP and WPA2 encryption schemes.
Linksys WCG200
The Linksys WCG200 is another wireless cable modem utilized by Comcast with its cable Internet subscribers. The device operates on the 2.4 GHz band using the 802.11g standard for wireless networking. The WCG200 transmits by way of a single antenna. Aside from the coaxial cable input, it has an AC power adapter, a USB port and four Ethernet ports for connecting other devices to the router/modem. This device also features a manual on/off switch. The WCG200 features a built-in HTML configuration interface for managing settings including WEP, WPA and WPA2 encryption.
Linksys BEFCMUH4
The Linksys BEFCMUH4 is one of three default cable modem and wireless router devices that Comcast distributes to its cable Internet subscribers that sign up for Wi-Fi service from the provider. The BEFCMUH4 uses the 802.11g networking protocols on the 2.4 GHz band. The device comes with a standard array of inputs and outputs, such as a coaxial cable input for connecting to the Internet, four Ethernet ports and a USB port for connecting to computers and an AC adapter for plugging in power. The device also has a manual on/off switch. This device is unique among Comcast's devices because it has a removable wireless module, which allows it to operate as a simple cable modem without the wireless routing capabilities. The device uses Linksys' standard HTML interface for managing network settings including the WEP, WPA and WPA2 security protocols.
Other Devices
Dozens of other combination cable modem and wireless network gateways available and all of them should be compatible with Comcast's cable Internet service. Motorola offers the SBG6580 SURFboard DOCSIS 3.0, the Cisco DPR2320 and the Belkin Wireless-G Router DSL/Cable Gateway. Technically, you can use any wireless cable gateway with Comcast service due the standards used in cable data transmission.
Photo Credits
photo_camera

Thomas Northcut/Photodisc/Getty Images