What's the Difference Between the iPhone & the Samsung Mesmerize?
by Tyson Cliffton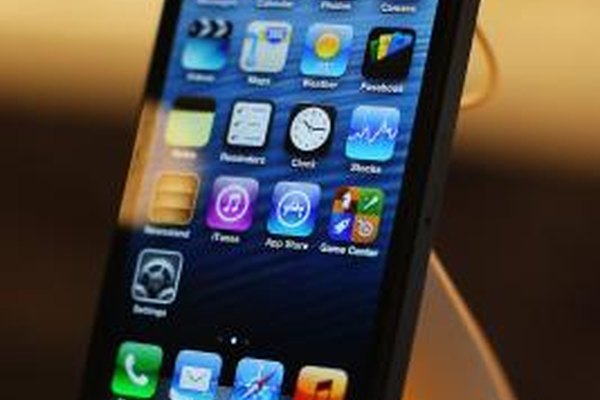 The iPhone and the Samsung Mesmerize are both touchscreen smartphones that offer a sizable display. However, the hardware that lives within each device is slightly different, and can have an impact on how you use the phone. Understanding these differences ensures you get a phone that meets your needs.
Battery Life
The Samsung Mesmerize offers 312 hours of standby time and 420 minutes of talk time from a full charge and using a 3G network. Alternatively, the iPhone battery offers users up to 225 hours of standby time and also up to 480 minutes of talk time using a 3G network.
Bluetooth
The iPhone uses Bluetooth 4.0 technology, while the Samsung Mesmerize uses Bluetooth 3.0 technology. The Bluetooth technology in each device is fairly similar, in that both technologies support the high speed transfer of data and allow the Bluetooth device to be connected to multiple devices. However, only Bluetooth 4.0 technology supports low energy protocols, which makes it possible for devices using Bluetooth 4.0 technology to use less power than devices using older Bluetooth technology.
Camera and Video
The Samsung Mesmerize features a 5-megapixel camera that records standard definition video. Alternatively, the iPhone features an 8-megapixel rear-facing iSight camera and a 1.2-megapixel front-facing camera; both cameras record video in high definition.
Memory
The Samsung Mesmerize comes with a 16GB microSD card for storing music, songs, data and video; you can upgrade to a larger microSD card if you need more memory at any time. Alternatively, the iPhone is only available with either 16, 32 or 64GB of memory that can't be upgraded after purchase.
Operating System
The iPhone runs iOS 6 as its operating system. Key features of the operating system include the Siri personal assistant, Facebook and Twitter integration, Passbook for managing tickets and coupons, and iCloud for backing up your personal data to Apple's servers. By comparison, the Samsung Mesmerize comes with Android 2.1, but is upgradeable to Android 2.2, which was originally released in mid-2010. While the Samsung Mesmerize doesn't offer native alternatives to the iPhone's key features, it has some strong areas of its own. For example, the device does have access to Google Play; at the time of publication, both Google Play and the iPhone's App Store offer over 700,000 apps. Additionally, the Mesmerize offers native solutions to let users automatically update apps and use Google Voice Search.
Warning
Information in this article applies to the iPhone 5 and the Samsung Mesmerize i500. It may vary slightly or significantly with other versions or products.
Photo Credits
photo_camera

Hannah Johnston/Getty Images Entertainment/Getty Images