Vibration in a Projector on a Suspended Ceiling
by Jessica Kolifrath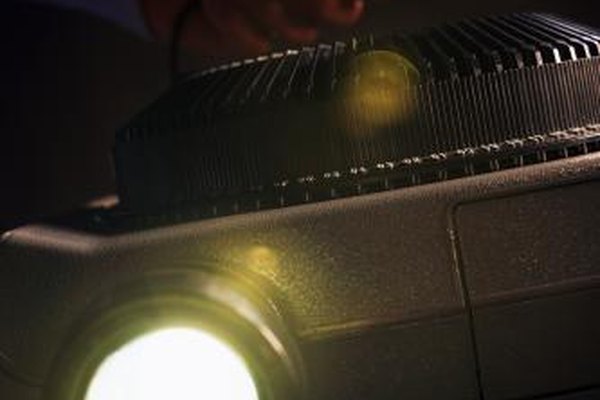 Mounting a projector on the ceiling of the classroom, office or living room where it is used saves space. Many projectors come with mounting equipment, but attaching the unit to a suspended ceiling is difficult with these mounts. Using the right mounts stops vibrations from ruining your presentation or television viewing.
Causes
If the projector is installed in the suspended ceiling below another actively used floor, the footsteps of the people walking above the room will cause vibrations to reach the unit. Heating and cooling units or ducts also transmit vibrations through the ceiling from the blowers that move the air around the building, according to Epson. Mounting the projector away from ductwork can help, but only vibration dampening mounts will stop causes like a busy upper floor.
Incorrect Mounting
Most projectors are relatively heavy units, so mounting them directly onto the suspended ceiling is not a good idea. There are clips available that help support the unit between the metal brackets of the suspended ceiling, but installing vibration dampening mounts will not work with this kind of installation. Try running a cross beam down from the structural beams above the suspended ceiling for a secure mounting procedure, recommends Cinema Source. This will allow you to install a vibration dampening device.
Dampers
A specifically designed dampening mount is the best device for stopping vibration that is preventing a ceiling mounted projector from displaying a clear image. These plates cannot be installed directly onto the suspended ceiling, according to Da-Lite, but need to attach to concrete, metal or wood. Small rubber pads absorb vibration and prevent it from reaching the projector. Moving the projector from the suspended ceiling to a concrete or wood framed wall may be easier than adding support from above the ceiling.
Damage
Allowing a projector to operate when heavy vibrations are causing it to shake the picture can cause more than just a blurry display. When the filament in the projector bulb is hot, it is very susceptible to damage from vibrations, warns Bamboo Audio and Video. If you cannot install a dampening plate in the ceiling, try scheduling your use of the device during times when there is no one moving on the floor above and causing excess vibration.
Photo Credits
photo_camera

Stockbyte/Stockbyte/Getty Images