How to Use an Internal Camera on an iMac
by Mary Jo Megginson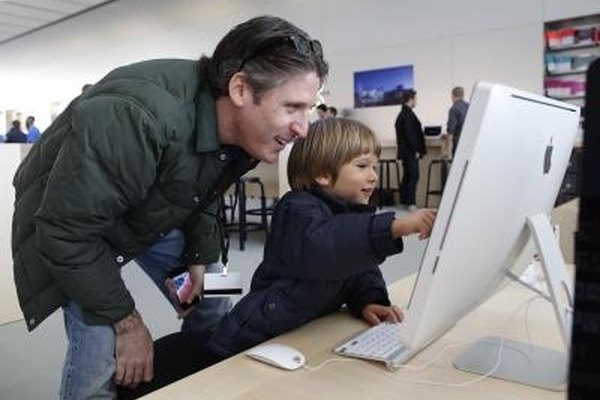 Apple first introduced internal webcams to their line of iMacs in 2005. The internal camera, dubbed "iSight" by Apple, records both still photographs and video from a small lens hidden at the top of the computer's display. A small microphone picks up audio for video recording and chats. Apple designed the webcam to be user-friendly and as such it requires no configuration or extra software. The camera turns on automatically when you open a camera-enabled application and turns off again when you close the application.
Photo Booth
1
Open the "Photo Booth" application on your computer.
2
Select the camera mode by clicking one of the buttons in the bottom left of the screen. Choose between taking a single picture, taking a series of four quick shots, or filming a video clip.
3
Click the "Effects" button to add graphic effects to your photo or video. By default the camera will shoot in normal mode.
4
Press the red camera icon to take your photo or begin filming your video. Click the square "Stop" button to stop the video recording when you are finished.
5
Select the image or video thumbnail when it appears at the bottom of the screen. You can now assign it as your Buddy picture for iChat or your profile picture for your Mac account by clicking the buttons. You can also add the image to your iPhoto library or email it using the "Mail" email client by selecting one of those two options at the bottom of the page.
6
Select "Quit Photo Booth" under the "Photo Booth" menu to exit the program and turn off the camera.
iChat
1
Open the iSight application on your computer by clicking the icon that appears in the dock on the bottom of the screen.
2
Sign in with your account name and password then click "Done." If you do not already have an account, click "Get an iChat Account" and follow the instructions to sign up.
3
Select a contact from your buddy list and click the green camera icon to initiate a video chat using the internal camera on your iMac. Select "Add Buddy" under the "Buddies" menu to search for and add contacts to your list.
4
Click the red "X" button on the top left of your chat screen to end the chat and turn off the camera.
Tips
The internal camera on the iMac can be used with several third party camera-enabled applications as well, including Skype and AIM. With most applications, simply click the camera icon to enable the camera.

You can configure iChat to access your AIM, Google Talk or Jabber account by changing your preferences.
More Articles