How to Use InDesign
by Elizabeth Mott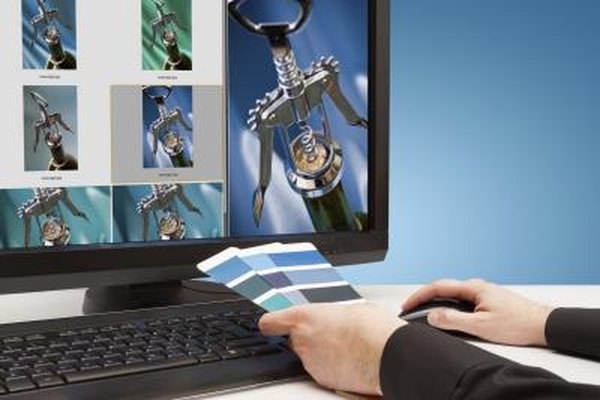 Unlike software designed for creating and editing photos and illustrations, page layout applications combine text and graphics into compositions for print and digital output. Among these applications, Adobe InDesign includes the types of features that layout professionals require for fast prototyping, revision, review and production. The program integrates into a suite of programs focused on supporting visual creativity. Its capabilities appeal to individual designers and creative workgroups who produce materials for marketing, advertising and publishing.
Page Layout Standards
Adobe Systems' first entry in the page layout software category, PageMaker, began as a product of Aldus Corporation, which Adobe Systems acquired in 1994. Rather than overhaul PageMaker's code base and attempt to add new features to a program that had lost most of its market share to competitor QuarkXPress, Adobe crafted a new page layout program and introduced it in 1999. InDesign's templates and master pages simplify the task of incorporating repeated elements throughout standardized multipage documents. Its support for color management helps standardize the characterization and reproduction of spot and process inks and the onscreen appearance of layout elements. Its frame-based construction methods provide receptacles for the images and text to which designers link their projects.
Multipurpose Design
Adobe InDesign's Liquid Layouts and Alternate Layouts simplify the process of transforming a design for one medium or implementation into a new version that suits another purpose. These features ease the transition between creations for print and Web, direct mail postcards and product brochures, or printed and e-book editions of a literary work. Liquid Layout rules specify how these transitions occur when an Alternate Layout switches a project to a different page size or output target. These processes can range from presets you create to specify how to scale and reposition content, to guide rules that control where and how layout objects react to new page formats.
Typographic Mastery
Setting up the text of a layout requires importing text, selecting typography, establishing rules that apply collections of styling attributes with a single click, and choosing the best paragraph composition settings for content in individual documents and on specific pages. Adobe InDesign's Paragraph Composer adjusts the spacing between letters and words and even the width of the letterforms themselves to optimize the appearance of entire paragraphs. It looks beyond an individual line of text to make decisions based on a greater assessment of typographic context. On the rare occasions when the Paragraph Composer produces less than optimal results, you can switch to the Single-Line Composer, which controls text on a line-by-line basis.
Long- or Short-Form Publishing
Regardless of where your ideas originate, Adobe InDesign can accommodate the pieces and parts of your inspiration, culminating in projects as complex as a scholarly volume -- complete with table of contents, figures, annotations, footnotes, bibliography and index -- or as simple as a bookmark or postcard. Its output options provide a gateway to myriad distribution formats, including PDF, e-books, HTML, XML and JPEG files. Its PDFs can support prepress features for commercial printing, interactivity for user enrichment and security provisions to protect proprietary information. InDesign's scripting features support automated production in multiuser situations, from data merging in customized publishing to ad production in periodicals.
Version Information
Information in this article applies to Adobe InDesign CC and Adobe InDesign CS6. It may differ slightly or significantly with other versions or products.
Photo Credits
photo_camera

scyther5/iStock/Getty Images