How to Use a Camera Lens Hood
by David Weedmark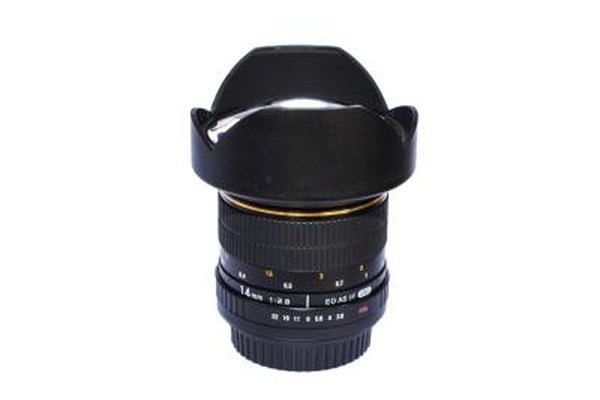 Depending on the camera lens you buy, it may or may not come equipped with a lens hood. If you already have a hood, you can just snap or screw it onto the end of the lens to keep out unwanted sources of light. If your lens doesn't have a hood, you can get one inexpensively from most camera shops. Hoods work with interchangeable lenses like those on a DSLR, rather than point and shoot cameras. Before buying a hood, make sure you select one that is designed for your lens and the types of photos you take.
Benefits of Using a Lens Hood
The primary benefit of a lens hood is that it eliminates light that comes in at an angle on the lens, creating lens flare. If you are shooting outdoors, for example, and the sun is directly above you, light from the sun can cause bright spots of light or even make any dust on the lens immediately visible in the photo. The same applies to night shots when streetlights can cause lens flare. A second benefit of the lens hood is that it reduces the risk of damaging your lens. If you get too close to an object, it's the hood that gets bumped, not the lens.
Selecting a Hood Style
Lens hoods have two main styles. Some are plain and cylindrical in shape, and may flare outward to allow more light into the lens. These are usually used with telephoto lenses. Other hoods are tulip-shaped, designed for wide-angle lenses. The cut out portions on the hood allow more light into wide-angle shots, so you don't get darkened edges and corners in your photos. While most hoods are made out of plastic, you can get rubber, and even metal ones.
Selecting the Right Hood Size
Because lens hoods fit on the end of your camera lens, it's vital that you select the right size hood for your lens. A hood that came with an Olympic camera lens, for example, won't fit on a Nikon lens. In most cases, the product description for a new hood will tell which lenses it's compatible with. If it doesn't, look first for its manufacturer compatibility, then its diameter in millimeters. The diameter of your lens may be on the lens itself, but more often you will find it inside the lens cap, such as "52mm."
Using the Lens Hood
Depending on the hood design, it either snaps onto the end of the camera lens or screws on. Unlike a filter, a hood only needs a turn or two to be secured. It's best to keep the hood on as much as possible, since it does protect your lens from impact. If the camera won't fit in your camera bag with the hood on, in most cases you can disconnect it, turn it around and fit it over the lens again. The hood takes up almost no space this way and it's there for you the next time you take it out again.
More Articles
Photo Credits
photo_camera

Khlongwangchao/iStock/Getty Images