How to Clean Up Garbage Taking Over Your Computer
by Anne Hirsh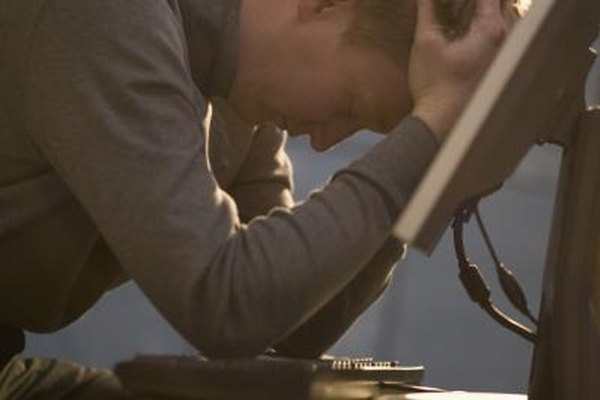 The garbage that takes over your computer may come in many forms. You may have old documents and photos you never open that take up storage space on the hard drive. Background programs you don't need may run at every start-up, taking up your RAM and processing power. Viruses, adware and spyware can also clog your computer with junk. Cleaning all of this up will take time, but you can free up space and make your computer run faster with a little patience.
Run a full scan with your anti-virus and anti-spyware programs. If you do not currently have a program, visit Virus Bulletin at Virusbtn.com to view the latest comparisons of available anti-virus software.
Back up your computer files. This will protect you in case you accidentally delete items you want to keep during the cleanup process. Click "Start," then "Control Panel," and then "Back up your computer" under the "System and Security" section.
Follow the on-screen prompts to back up your computer to an external hard drive, CDs or DVDs. Select the option to "Create a restore point" if prompted.
Disconnect your external hard drive or remove your backup media from the CD/DVD drive when the backup process is finished.
Open your "Documents" folder. Look through each document and delete any that you no longer want. Repeat the process with your "Pictures," "Videos" and any other folders where you store data.
Right-click your Recycle Bin and click "Empty the Recycle Bin."
Click "Start," "Control Panel," "Network and Internet," and then "Internet Options."
Select "General," and then "Delete" under "Browsing history." This deletes your temporary Internet files, but will also affect your browser's history suggestions. You can delete browsing history directly within your Internet browser as well.
Click "Start," "Control Panel," and then "Uninstall a Program" in the "Programs" section.
Look for any programs you want to delete in the list that appears of all your programs. Click the first of these programs and choose "Remove," then wait for the removal process to complete. You may need to follow on-screen prompts for some programs.
Repeat the removal process for all programs you no longer use, as well as trial software that came with your computer that you never used. If you do not know what a program does, do not delete it. It may be necessary for your computer's operation. Look up the program online to find out more details.
Restart your computer after removing the last program.
Click "Start," "All Programs," "Accessories" and then "Run" and type "msconfig" (without quotes) into the data entry box. Click "OK."
Click the "Startup" tab and click to remove the check marks from any programs you do not want to run at start-up. As with programs, do not remove something if you do not know what it does, as it may be vital to your computer's function.
Click "OK" and restart your computer. Follow the on-screen prompts to allow the selective start-up and to not show the warning message again.
Click "Start," "Control Panel" and "System and Security," and then choose "Defragment Hard Drive" under "Administrative Tools."
Follow the on-screen instructions to defragment your hard drive, which will complete your computer cleanup process. Defragmenting can take hours, so expect not to use your computer during this time.
Tip
check

This process applies to Windows 7 operating systems. Other operating system versions have similar processes, but the wording may differ.
More Articles
Photo Credits
photo_camera

Comstock Images/Comstock/Getty Images