What Types of Files Can I Put on a Kindle?
by Alan Bradford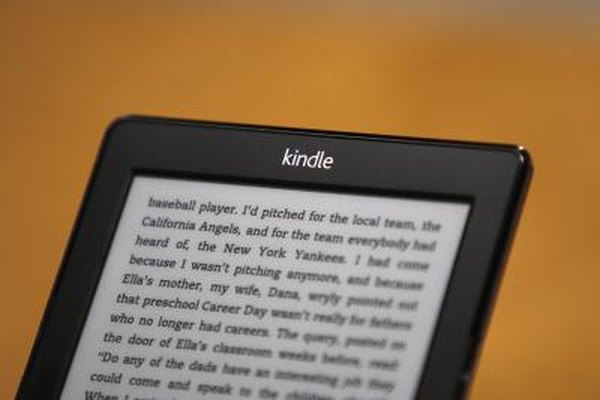 While the primary use for the Amazon Kindle is as an e-reader of books, magazines and newspapers, Amazon has built in some limited functionality for other file types and features. Some files can be transferred directly to the Kindle using a USB connection, but others are not uploaded so easily. Amazon provides a roundabout service for converting some file types into a format that the Kindle can read.
E-Books
Kindle uses a proprietary file format for handling e-books called AZW. These files are usually bought and downloaded from the Kindle store and are one of the few file formats that the Kindle recognizes. This is also the same file format used for viewing magazines and newspapers. There are no tools outside of Amazon that can create AZW files or convert other file types to AZW. The Kindle also recognizes standard TXT files, as well as MOBI and PRC files, which are books purchased from Mobipocket.
Audio
While reading on the Kindle, you can also listen to music, in the form of MP3 files. These can be transferred using a USB connection to your computer. Keep in mind, however, that you cannot organize the music once you have transferred it to your Kindle. The music files play in the order they are uploaded. In addition, the Kindle recognizes Audible audiobook files purchased from the Audible website. These files can either be transferred wirelessly if you have merged your Audible and Amazon accounts, or by transferring them via USB.
Graphics
You can upload such graphic formats as JPG, GIF, PNG and BMP, but these files must first be sent through email to an Amazon email address. An Amazon utility then converts the graphics file into a format that the Kindle can read. After conversion, you can either upload the file via USB, or have the file transferred wirelessly from Amazon, for a fee.
Other Files
Using the Kindle Personal Document Service, you can also convert the following document types to a format that the Kindle can read: DOC, HTML, RTF and PDF. Not all of the formatting and other features in each of these documents will be converted. Just as with the graphics files, you can either upload these converted files using USB, or have Amazon transmit them through its Whispernet service directly to your Kindle.
Photo Credits
photo_camera

David McNew/Getty Images News/Getty Images