How to Transfer Files From Internal Hard Drive to an External Hard Drive
by Josh Fredman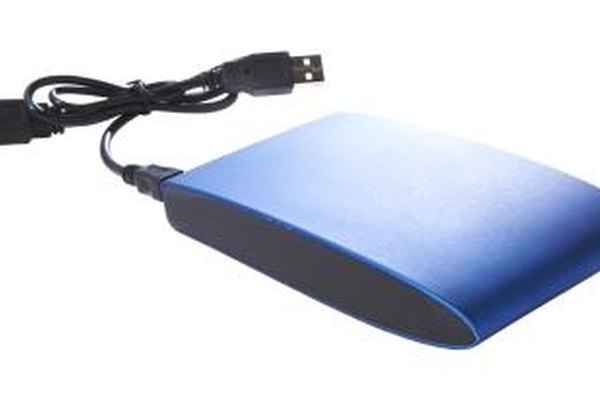 Hard drives platters look a lot like DVDs, except you'll rarely see the discs themselves because they come sealed inside the "drive" part of the hard drive that houses the disk reader and protects the works from dust. External and internal hard drives have only one difference: External hard drives reside outside your computer and can be easily detached for use elsewhere. They make good backup storage devices because of their larger data capacities than other options such as USB flash drives. They are also easy to use and are relatively affordable as a storage solution.
1
Purchase an external hard drive according to your needs. In particular, make sure the one you buy has enough storage space to hold on your files and is physically compatible with your computer, as well as your operating system. If you want to transfer your files wirelessly, ensure the external hard drive supports wireless; as, of time of publication, this feature remains uncommon.
2
Read the quick start instructions in the user manual. Any instructions there supersede the ones provided here. Generally speaking external hard drives manufactured in the 2010s have become easy and consistent to use. They come preformatted and ready to plug in straight out of the box.
3
Plug the hard drive into electrical power if necessary. Many external hard drives no longer have separate electrical power requirements and draw all their power from the USB connection.
4
Connect the hard drive to your computer through the USB or Ethernet cable that came with the drive. If you're using a wireless hard drive, follow the quick installation instructions for connecting through your local wireless network. This usually involves using the wireless network connection window to look for the external drive's wireless signal alongside other wireless networks in range of your computer.
5
Follow any onscreen setup instructions. In most cases, however, you should be able to begin transferring data to the external drive immediately.
6
Launch Windows Explorer by clicking the folder icon in the bottom left corner of the screen in Windows 7. From there, locate the external drive by looking under the "Computer" section on the left side of the Windows Explorer screen. The external drive will be listed below your home or "C" drive. Set up any folders on the external hard drive that will help you organize your data.
7
Navigate in Windows Explorer to the folders on your internal hard drive that contain the files you want to transfer. Right-click on files or whole folders and select "Copy" if you want to copy the data without erasing it from your internal drive or "Cut" if you want to erase the data from your internal drive. Go back to the folders you've set up on your external hard drive and select "Paste" to complete the transfer.
8
Repeat this process until you have transferred all of the files you need. Click the "Safely Remove Hardware and Eject Media" icon in the taskbar. Select the external drive and disconnect it from your computer. Store the drive in a safe, dry location until you need to use it again.
Tips
check

External hard drive compatibility can be an issue with very old computers from the 1990s or early 2000s that don't support USB 2.0. In that case, you need an external drive that supports a USB 1.1 connection. You might also need to make sure that the external drive supports whatever old version of Windows the computer uses. If this is a concern for you, talk to a sales associate before making a purchase.

check

You may want to buy a carrying case for the external drive if you plan to haul it around on trips.
References
Photo Credits
photo_camera

Thomas Northcut/Photodisc/Getty Images