How to Transfer Data From a Hard Drive to Another Hard Drive
by Jonathan Langdon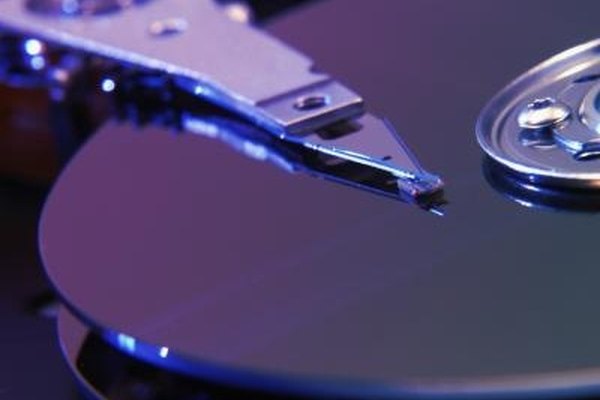 It is important to routinely back up the data on a hard drive. Electrical surges, natural disasters and mundane household accidents can damage a hard drive and make its data impossible to recover. Even if nothing ever physically harms the hard drive, it can become worn out from use or infected with a software virus that corrupts its data. One method of protecting the data on a hard drive is to transfer it over to a second hard drive. The second hard drive serves as a backup so that if the primary hard drive is disabled, the user's data is preserved.
Turn off the computer and unplug its power cord. Open the case and then connect the secondary hard drive to the motherboard using a serial ATA cable. Plug the hard drive's power cable into the power supply and then mount the hard drive into the computer case using a Phillips head screwdriver. New internal 3.5 hard drives come packaged with a kit to mount the hard drive according to manufacturer specifications. Close the computer case, plug in the power cord and then turn on the computer. Wait for Windows to load.
Press the Windows key to open the "Start menu and then type "computer management" into the "Search programs and files" field. Click "Disk Management" in the left panel of the Computer Management window. Right-click the new hard drive and then click "Format." Set "Volume label," click "OK" and then click "OK" in the confirmation window to format the hard drive. Formatting a new hard drive is a quick way to set it up for Windows. Formatting also gets rid of fluff software installed on the hard drive by the manufacturer.
Open the "Start" menu and then click "Computer" to open a Windows Explorer window. Right-click the secondary hard drive in the drive list under "Computer" in the left panel. Click "Open in new window" to open a second Windows Explorer window. Select the files and directories to be transferred over to the new hard drive, press the Control (Ctrl) and X keys at the same time, click the Windows Explorer window of the new hard drive, and then press Ctrl and V at the same time to begin the transfer.
Tips
check

Ctrl+X is the shortcut for "cutting" a file. Pasting a file with Ctrl+V transfers the file and then erases it from the original location.

check

Dropbox and Microsoft's SkyDrive provide free online storage for backing up data.

check

External hard drives or internal hard drives in external enclosures easily connect to a computer via USB or Firewire.

check

Files can also be transferred from one hard drive to another by burning the files to disc or by using portable drives.
Warnings
close

Any interruption during transfer can harm the data.

close

Software that rely on the Windows Registry, including the operating system, must be reinstalled after being transferred to a new hard drive.
Photo Credits
photo_camera

Medioimages/Photodisc/Photodisc/Getty Images