How to Transfer Cassette Tapes to DVDs
by Wanda Thibodeaux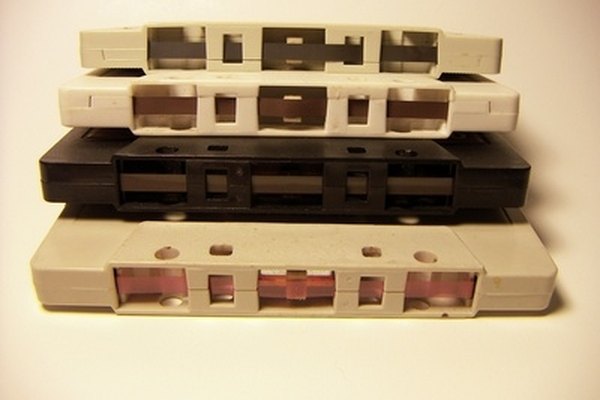 Cassette tapes are getting rare as of 2010, since digital technology allows for the recording of audio in digital formats. If you have old cassette tapes you'd like to preserve, you can save them using your computer and a tape deck. Once you have the cassette audio on your computer, you then can burn the audio files to a DVD. You also can burn to a CD, but a DVD can hold more data. You can make as many copies of the audio as you need, which is nice for backup purposes.
Download and install Audacity from audacity.com. This is a free audio editing software that is able to capture audio data from your computer sound card.
Connect the tape deck to your computer using an RCA mini jack cable. The dual end connects to the stereo ports on the deck, while the single end plugs into the sound card.
Open Audacity and press the red record button on the main Audacity interface. Audacity will start recording from your sound card.
Press "Play" on your tape deck.
Press "Stop" on the tape deck and the yellow stop button on the Audacity interface when you are done recording.
Export the file as an MP3 or WAV file under the Audacity File menu. You may set ID tags for the recording during this step. You will be prompted to choose a save location for the exported file.
Open your favorite DVD burning software. Use the software's controls to navigate to the recorded files and put them into a burn list.
Place a blank DVD in your computer CD/DVD drive. Select "Burn" or "Create DVD." You may have to specify the burn speed and other details you want before you can confirm the burn, depending on what burning software you are using.
Tips
check

Audacity has the ability to cut the files you create, as well as to edit out some basic problems like static. Look for these features under the Edit menu if you want to edit your audio files.

check

Expect one side of a cassette to create a 350 MB to 1 GB file---you can see why burning a DVD is preferential over CDs when the files are this size.
More Articles
Photo Credits
photo_camera cassette tapes image by robert mobley from Fotolia.com