Spring Cleaning: Speed Up Your PC and Free Up Space
by Chris Hoffman
Updated October 17, 2017
PCs don't have to be high maintenance — I certainly don't run a PC-cleaning program every week. But every computer could use an occasional tune up. Take a few minutes to speed up, secure and free up space on your PC.
Remove Useless Files
Your computer builds temporary files and other unnecessary junk that pile up over time. These files slow down your PC a bit and waste storage space — especially if you have a modern laptop with a small solid-state drive.
To use Windows' Disk Cleanup tool, press the Windows key to open the Start menu or Start screen and type "Disk Cleanup" to search for it. Click the Disk Cleanup shortcut on Windows 7 or the "Free up disk space by deleting unnecessary files" shortcut on Windows 8. Run the tool to erase junk files — and click the "Clean up system files" button, too. This will clean system-wide files that wouldn't otherwise be erased.
You could use the free CCleaner instead. This tool finds junk files from third-party programs and also erases your browser history and other private data. Check the types of data it will remove before running it so you don't accidentally erase anything you want to keep.
Purge Unnecessary Software
While you're at it, head over to the Control Panel and uninstall programs you don't use to free up space on your hard drive. If the program runs in the background, this will also speed up your computer and free memory.
Check your Web browser's list of installed extensions or add-ons, and remove any you don't use. These can slow down your browser, so it's good to go over them regularly and uninstall any you don't use.
Programs that start with your computer can also slow things down. If you don't want to uninstall a startup program — but you wish it didn't start at boot — prevent it from starting with your computer. Windows 8 includes a tool for this — right-click your taskbar, select Task Manager, and use the Startup tab to disable startup apps. On Windows 7, install CCleaner and use the Tools, Startup pane. Some programs are actually useful in the background, so use common sense when disabling programs. For example, if you prevent Dropbox from automatically starting with your computer, it won't automatically sync files until you launch it. You can always re-enable startup programs later.
Check Your Updates
Keeping your software up-to-date is essential for security. With the right settings, this will happen automatically so you can secure your PC without worrying about it.
To ensure Windows is automatically updating, open the Control Panel, navigate to System and Security, Windows Update to check that updates are automatically installed. If you don't want to automatically install updates, set Windows to alert you about important updates and install them when you see the alert.
Internet Explorer updates itself through Windows Update, while Chrome always updates itself in the background. To ensure Firefox is automatically updating, open its options window and navigate to Advanced, Update. Firefox should be set to automatically install updates here unless you've disabled it previously.
To check if your plugins are up-to-date, visit the Firefox Plug-in Check page — while it has Firefox in the name, it works for most browsers. Update any plugins that are out of date. Recent versions of plugins should automatically update themselves, so install the latest version.
Find and Remove Clutter
Your own downloads and personal files can use up quite a bit of space on your computer. A tool like WinDirStat will scan your computer's hard drive and provide a visual overview of which folders and files are taking up the most space. If you have any big video files or other downloads, this will make them easy to find.
Be careful when deleting files — it's okay to delete your own downloads and personal files if you don't want them, but you don't delete system files or program files.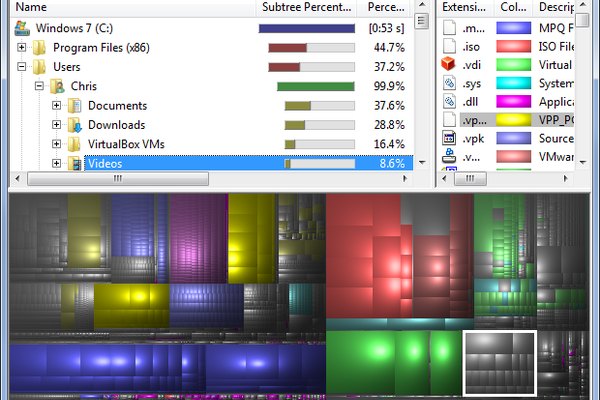 Refresh or Reinstall Windows
If you really want to start over from scratch, reinstall Windows. On Windows 8, use the Refresh Your PC feature to get a clean Windows operating system without wiping your personal files. You'll just have to reinstall your Windows desktop programs.
On Windows 7, use your computer's recovery partition or a Windows installation disc to reinstall Windows. Create backups beforehand if you do this as it may erase any files stored on your hard drive.
You shouldn't need to regularly reinstall Windows, but you can if your computer is a complete mess and you'd rather start over from scratch.
Photo credit: Microsoft, WinDirStat
More Articles