What Are Smart Boards & What Can They Do?
by Stacy Kile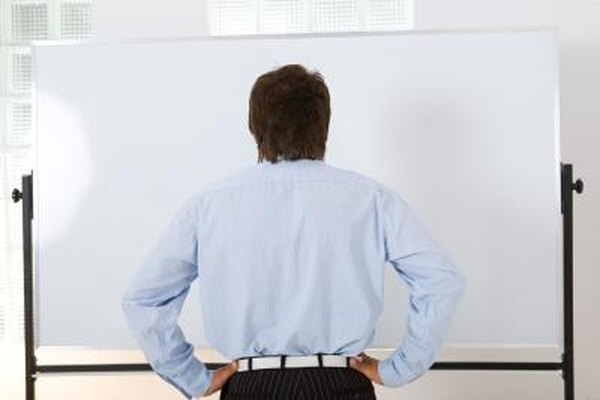 A SMART Board is essentially an interactive whiteboard. It is designed to make teaching easier and more encompassing. SMART boards work in congruence with a projector to create a touch screen whiteboard that can present the students with many programs and images from a computer.
SMART Board Basics
SMART Boards advance the simple white board concept by connecting with the technology of a computer. Combined with a projector, a SMART Board manages to make one computer available for a whole class of students. You can also collaborate on a project with colleagues in different locations with Windows NetMeeting. All participants using this program will be able to add to the joint project, as well as update, cut, paste, drag and drop any aspect of it. You can also use this technology to give a presentation from a separate location.
Using a SMART Board
You can use many different colored markers from the Pen Tray to differentiate the information you present. Your finger can be used as a mouse and you can click something by tapping your finger twice, quickly. There is also an interactive keyboard; you can switch from the mouse to the keyboard by pressing the corresponding button on the SMART Board.
Interactive Programs
The use of a projector with a SMART Board allows the touch-sensitive surface of the board to be used with a number of point-and-click programs for the computer. Some of these programs include the Internet browsers Netscape and Internet Explorer, the Office programs WordPerfect Office, Microsoft Office and Star Office Suites, the email programs Eudora, Outlook Express and Pegasus, along with multimedia applications. These programs allow one or more students to interact with information presented on the SMART Board.
Special Features
A SMART Board can be used to collaborate group work. Even without the use of a projector, a SMART Board can save anything written on the board with a dry-erase marker to a computer. Your work on a SMART Board can be saved in the following formats: HTML, PDF, JPEG, as well as the SMART Board's own format. You can print, save and email your work or keep it stored on the SMART Notebook. The SMART Recorder also allows you to save any and all vision and audio applications. This feature can record an entire lesson plan and play it back with the corresponding visual stimuli.
References
Photo Credits
photo_camera

Jupiterimages/Photos.com/Getty Images