What Are SIP Phones?
by Brian O'Connor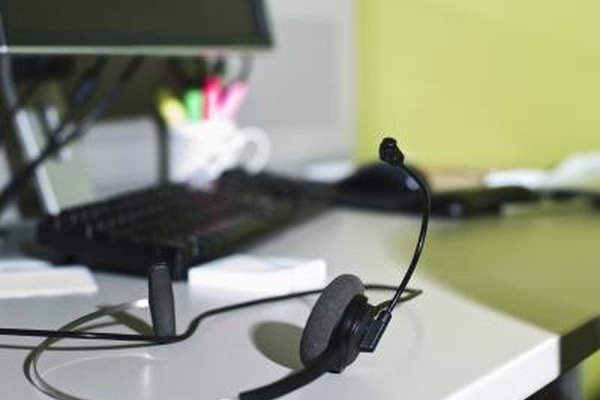 SIP phones are headsets, portable phones, desk phones, or computers which use SIP (Session Initiation Protocol) technology to place phone calls via the Internet. The SIP system is commonly found within VoIP (voice over IP) software, which allows users to place and receive telephone calls via wireless networks to cellular devices, wired phones or other computers. Additionally, SIP phone numbers can be used in tandem with other telephone numbers, allowing users to stay connected wherever they are.
How SIP Connections Work
The protocol that powers SIP is designed to allow users to contact others over the Internet by using the familiar structure of landline and wireless telephone calls. Additionally, SIP connections allow for higher-quality videoconferencing, building on the capabilities of traditional telephone lines. Currently, SIP technology allows for conventional telephone calls, multimedia conferencing, calling businesses and individuals from web links and communication with other users of SIP technology from within instant messaging.
Using SIP Phones
Purchasing a SIP phone allows users to place and receive VoIP calls by using a traditional cordless or corded phone, with the only major difference being the method by which the phone makes and receives connections. SIP phones will usually connect to a user's wireless router or modem, using the connection to operate. Phone models using SIP technology can be found at major retailers and typically require a user to have a pre-existing VoIP account that the phone will use as its connection for calls.
Using SIP Connections on a Computer
Using SIP computer software permits people to place and receive calls directly from their desktop --- using the computer's Internet connection, speakers and microphone to act as a conventional telephone. The technology can be found within many applications, including Google Chat, Gizmo5, SIPgate, and other dialing software. The SIP software can be found as free shareware or as priced applications that include a variety of features. Free software tends to include minimal calling features, usually limited to placing and receiving calls. More advanced software applications allow for teleconferencing, call forwarding to landlines or cell phones, or multimedia presentations. Most applications provide users with dedicated telephone numbers for SIP-based VoIP accounts, which are either inexpensive or free.
Smartphone SIP Apps
Taking advantage of the high-speed, dedicated data connections of smartphones, SIP technology can be used in tandem with existing telephone accounts on the iPhone, Android, BlackBerry or Windows Phone devices. To use SIP accounts with cellular devices, users can download software that associates the SIP number with the mobile device. When enabled, calls can be received and placed from the smartphone through the device's data connection as opposed to the wireless phone connection. The SIP telephone number will be different than the mobile phone number. To install SIP apps, users should consult the app store associated with their phone's operating system.
SIP Phone Technology for Enterprise
Employing SIP technology in business settings allow users to stay connected to their office from anywhere in the world, receiving calls, faxes and conferencing capabilities without being tethered to a wired phone system. In enterprise applications, SIP technology works in tandem with VoIP providers to allow for video conferencing and phone calls over wireless networks. Additionally, enterprise versions of VoIP software also allow for faxes to be placed and received over standard phone numbers, which allows companies to use a single number for all telecommunications activities. SIP and VoIP technology also allows for employees to receive and place calls from personal wireless devices and home phones without needing to re-dial or transfer calls, as most applications can be set up to automatically forward calls to external devices. SIP technology for enterprise marks a step forward for many businesses with traveling employees or overseas vendors, allowing them to keep in touch without spending large sums of money on telecommunications services.
References
Photo Credits
photo_camera

Ryan McVay/Photodisc/Getty Images