How to Set up Your Phone to See When a Certain Person Tweets
by Melly Parker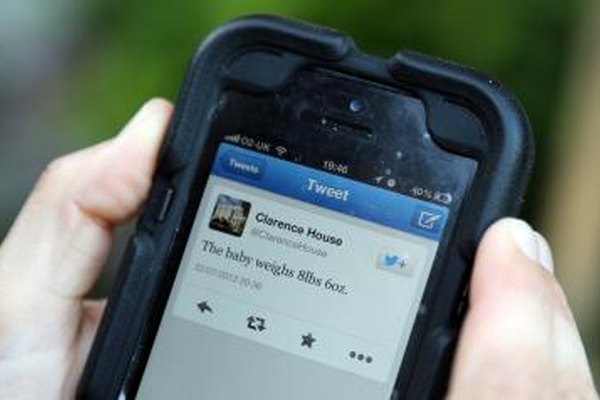 Notifications about Twitter updates from specific people can come via SMS messages or from an app installed on your smartphone. The two options do almost the same thing but work on different networks. The SMS option uses your text messaging service and will cost extra if you're charged by text. The app uses your mobile data connection and may not be available where SMS would still work.
Text Alerts
Any phone can be configured to receive a text message when a user you follow submits a tweet. To get started, text the word "START" (without quotes here and in subsequent commands) to 40404. When you receive a reply, respond to it with only your username and no other information. Send another message with your password to connect your phone to Twitter texts. Once you've received a notification that your device is connected to Twitter, text "ON username" to 40404, with the Twitter ID of the person whose tweets you want replacing the word "username."
Native Apps
The native Twitter app for iPhone and Android devices can be set up to deliver a push notification to your phone when a person tweets. Open the app and then open the profile of the person whose tweets you want to receive within the app. Tap the "Settings" option and then enable notifications. All your notification subscriptions are available in the main Twitter settings menu of the app.
Sleep Settings
If you're subscribed to a user's updates and don't want to receive them at a certain time -- when you're sleeping, for example -- you can set up a time for Twitter to cease all notifications. Sign into the site on your Web browser and open the "Settings" menu. Select the "Mobile" option. Adjust your sleep settings to stop tweets from being sent to your phone at certain hours.
Temporary Suspension
Sometimes a text message coming in isn't convenient, but you don't want to adjust your mobile subscriptions. Texting the message "OFF" to 40404 from the phone that's connected to Twitter's mobile service will cease all sent Twitter updates. When you're ready to receive texts again, send "ON" to 40404.
Photo Credits
photo_camera

Matt Cardy/Getty Images News/Getty Images