How to Set Up an Online Video Conference
by Contributor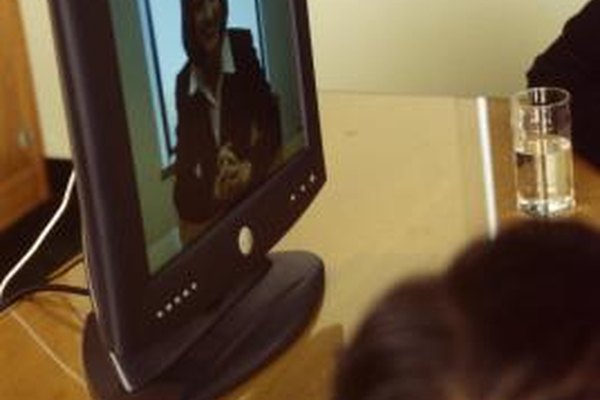 Online video conferences make it possible for two or more people to see each other, talk and share files or documents through their PCs over the internet, instead of traveling to meet face-to-face. Video conference software for a basic meeting can be downloaded for free. Web video conference systems which allow many participants at once, have higher sound and video quality, and allow participants to share files and documents during the meeting, are available for a monthly fee. With a high-speed internet connection, a microphone and webcam, you can hold a business meeting, give a sales presentation, or have a conference without the expense and trouble of getting everyone in the same location.
1
Install the necessary video conference hardware on everyone's computer, if they don't already have it. A webcam (web camera), microphone and speakers are necessary. Most computers already have a microphone, speakers and webcams built in. Webcam/microphone combinations that plug into your computer's USB port can be purchased at electronics stores for under $50.
2
Download and install video conference software. The video conference can be free if each person uses the same kind of software, such as the free software available from Skype, MSN Messenger or Yahoo, or similar companies. Other companies offer video conference software with more capabilities for a monthly fee. If you want high quality audio or video, or expect many participants, it may be worth investing in paid video conference software. Each video conference system is slightly different, but the companies provide instructions on how to set up their software and connect it to your computer and webcam.
3
Test the video conference by arranging a time and calling each potential user and connecting with them according to your software's instructions. Make sure each person's webcam is working properly, and the room lighting is good. Avoid difficult-to-see situations such as a bright light directly behind a person. Make sure each person is seated so that they are in the middle of their camera's view. If your video conference software allows viewers to share files and documents, test that capability.
4
Before your first actual video conference, arrange a time suitable for everyone, run the video conference software, and have each person connect using their computer.
Tip
check

People new to video conferencing often sit with only a tiny corner of their face showing on edge of the screen and it can be a challenge to persuade them to adjust, so be ready to exercise patience.
Photo Credits
photo_camera

Creatas/Creatas/Getty Images