How to Set Up Multiple Twitter Accounts on Your iPhone
by David Weedmark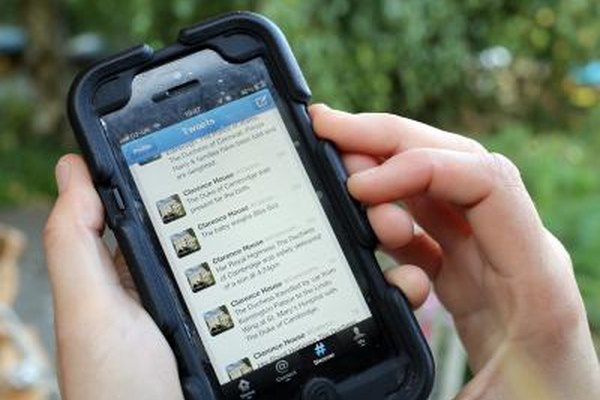 If you manage more than one Twitter account, you can access them all using the Twitter app available on the iPhone. You can quickly switch from a personal account to a work account, to the account you use for a club or for your website with just a few taps. While Twitter doesn't limit the number of accounts you can have on its service, or the number of accounts you can use on the app, using more than 10 accounts will make the app run slower.
Getting the App
Twitter has an official app that's free to download on the iPhone, which you can download directly from the App Store on your iPhone. A link to the app also appears on Twitter's mobile website, which is the Twitter home page when accessed on Safari on iPhone. After you install the app, you can sign in with any of your Twitter accounts or sign up with a new account. The same features on the website are available on the app, like composing tweets, finding people and sending direct messages. The app also enables you to tweet directly from apps like Safari, Photos, YouTube and any other apps that use the Apple iOS single sign-on feature.
Signing in With Additional Accounts
Once you have signed into the Twitter app with one account, you can add as many accounts as you want directly within the app. To add accounts, tap the "Me" tab at the bottom of the screen, and then tap the person button located beneath your profile picture and above your list of tweets. When you tap the "+" button you're prompted to enter the username and password for your second, third or umpteenth Twitter account.
Adding Accounts in Settings
In addition to adding accounts in the Twitter app, you can add Twitter accounts in the iPhone's Settings. To access Twitter's settings, launch "Settings" on the iPhone home screen and scroll down the screen and tap "Twitter." All of the accounts already connected to the Twitter app are listed here. To add an account, tap "Add Account." After you enter a username and password, tap the "Sign In" button. Tweets, lists and other account information for the new account are now accessible in the Twitter app with the other accounts.
Managing Accounts
To switch from one account to another, tap the "Me" tab in the Twitter app and then tap the person button beneath your profile picture. When you tap the account you want to use, a check mark appears beside it, indicating it's the active account. To delete an account from the Twitter app, access your list of accounts in either the Twitter app itself or in Settings, and then drag your finger across the account. When you tap the red "Remove" button that appears, the account is removed from the app.
Photo Credits
photo_camera

Matt Cardy/Getty Images News/Getty Images