How to Save Windows XP Updates to Install on Another System
by C.D. Crowder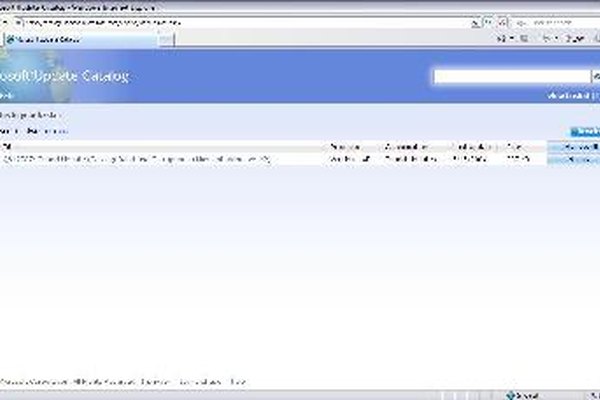 Microsoft frequently provides security and software updates to Windows XP through Windows Update. When you visit the Windows Update area through the Windows XP desktop, there is no option to save downloads. You must download and install on the fly. Users with computer problems or no Internet access may need to save the updates to install on another system later. Another reason to download updates from another computer is to prevent infecting a newly formatted computer with a virus due to lack of updates.
1
Open an Internet Explorer browser window. Firefox will not work. Go to the Microsoft Windows Update Catalog. (See Resources for the link.)
2
Install the Active X Control if prompted. Click the gold information bar at the top of the screen, click "Install" and press "Install" to complete the installation.
3
Type "Windows XP" into the search bar at the top right of the screen and press "Search."
4
Organize results by "Classification", "Products" or "Date" by clicking the header title once for ascending order and twice for descending order. Click "Add" for any update you wish to download. Download all "Critical Updates" for "Windows XP." Most users will only need Windows XP and not Windows XP x64. If you've already downloaded updates up to a certain date, organize the results by "Date" to only view the newest updates listed.
5
Click "View Basket" to download all added updates. This is listed under the search box.
6
Click "Download" to view the download dialog box. Click "Browse" to select a location for the file and press "Download" to download and save the file. Save the file directly to a flash drive to transfer easily to another system.
Tip
check

To narrow your search, type "Windows XP" plus the classification into the search box. For instance, to only view "Critical Updates," type "Windows XP Critical Updates."
Warning
close

Only download Windows updates from the official Windows Update website, to avoid installing a virus.
More Articles
Photo Credits
photo_camera

Windows Update Catalog