How to Save Photos From a Computer to a Memory Stick
by Bailey Richert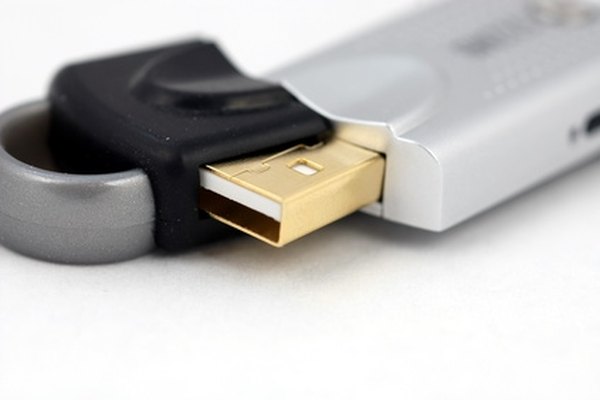 Memory sticks are also known as USB storage devices, thumb drives or flash drives. They have received these names because they are small, flash storage devices approximately 2 inches in length. They have relatively small storage capacities, which is why they are not commonly used for long-term storage of information. Instead, they serve as a transfer device to move information between computers. The digital photograph is a file which is often saved onto a memory stick.
Plug in the memory stick into the USB port of your computer's hard drive. This port is found on the front of your computer's hard drive tower. To insert, simply gently push it in.
Watch for your computer to recognize the new memory stick by waiting for a yellow information balloon to appear at the bottom right corner of your screen near the time stamp on your tool bar.
Approve the installation of your memory stick's drivers when prompted by your installation software. A driver is a program that a piece of hardware needs to run, and your computer is not equipped with all hardware's drivers. Before accepting installation, verify that you have a working Internet connection.
Open the "My Computer" icon on your desktop. Choose the USB port drive from available drives listed, and double-click to open. It will usually be designated as the USB drive by listing the name of the memory stick brand above it, such as "Seaport" or "Kingston." Your brand name is often written on the memory stick itself. Move this window when opened into the lower corner of your screen for later use.
Select all digital photographs you wish to save onto the memory stick by single-clicking them while simultaneously holding down the "Shift" key. This will allow you to select more than one file at once.
Right-click on the selected files once, and select "Copy" from the menu which appears.
Right-click once in the window of your USB drive, and select "Paste" from the menu which appears. This will begin the transfer of your files to the memory stick. Watch the progress bar that appears to see how long the process will take. When the progess bar reaches 100 percent, your transfer is complete, and the USB drive may be removed.
Tip
check

Using "Copy," instead of "Cut," will allow your photographs to remain in their original locations on the computer's hard drive; they will not be deleted.
Photo Credits
photo_camera flash drive image by jimcox40 from Fotolia.com