How to Reset a Password on a Belkin Router
By Andrew Tennyson
Most Belkin routers have a physical reset button you can use to reboot the router when it stops working properly. However, this button does not affect the router's settings, including its passwords. You must log in to the router's Web-based administration panel in order to reset its administrator or Wi-Fi password.
Reset or Change the Administrator Password
Connect your computer directly to the Belkin router using a LAN cable. Even if the Belkin router is a Wi-Fi-capable model, you must connect directly to the device using a cable.
Open a new Web browser tab, enter the address 192.168.2.1 in the browser's address bar and then press Enter.
Tips
You can also access the admin panel on some Belkin routers by visiting http://router.
Click the Login link in the top corner of the page and log in using your current administrator password.
Tips
If you've never logged in to your Belkin router before, leave the Password field blank and click Submit.
Click Restore Factory Default under the Utilities heading on the left of the screen to reset the router to its default administrative password, which is no password at all. If you'd prefer to set a new password instead of leaving the router without one, select System Settings rather than Restore Factory Defaults.
Tips
Depending on the age of your Belkin router, the System Settings link may be located elsewhere than on the Utilities menu. If you see an Advanced Settings menu item, click that to expand the associated section and then select System Settings under the Utilities heading.
Enter your current administrator password in the first field, and then enter and confirm your new password in the second and third fields, respectively.
Scroll down and click Apply Changes or Save to finish setting your new administrator password.
Change Your Wi-Fi Password
Your router's administrator password is not the same as its Wi-Fi password. The Wi-Fi password is what you use to access the Internet through the router.
Type 192.168.2.1 in your Web browser, click the Login button in the top corner of the page and sign in using your router's administrative password.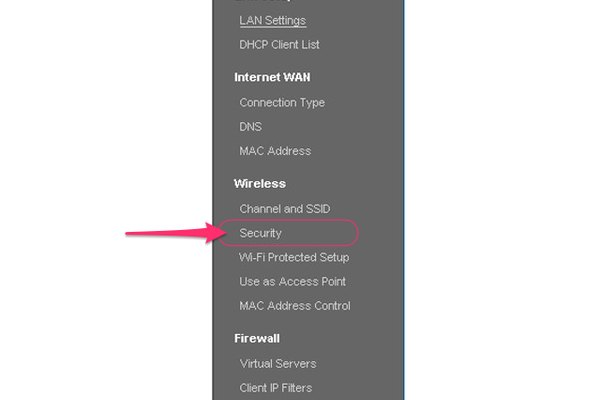 Click Security under the Wireless heading on the menu along the left of the screen.
Tips
Depending on the age and model of your Belkin router, you may have to expand the Advanced Settings header and then click Security in the Wi-Fi section to change your password.
Enter a new Wi-Fi password in the Pre-shared Key field and then click Save or Apply Changes.
References
Writer Bio
Andrew Tennyson has been writing about culture, technology, health and a variety of other subjects since 2003. He has been published in The Gazette, DTR and ZCom. He holds a Bachelor of Arts in history and a Master of Fine Arts in writing.