How to Reset Dell Monitor Settings
by Andrew Aarons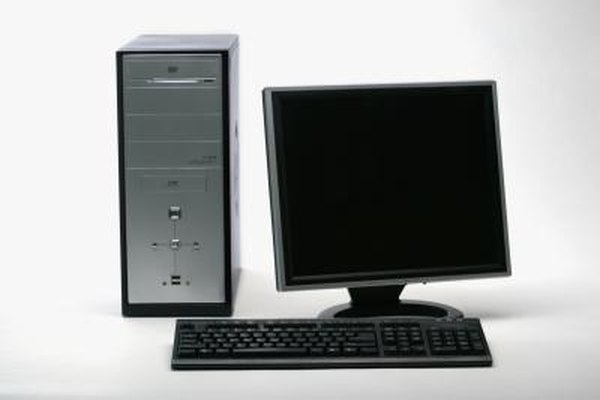 Resetting a computer monitor to its factory settings is an essential -- often initial -- step when troubleshooting. But not all monitors are created equal, even by the same manufacturer. Dell re-brands other company's monitors as part of its OEM PC setups, so not all Dell monitors have the same instructions for performing a factory reset. If in doubt, check your monitor's manual (which should have come with the PC), or track down the instructions from Dell's extensive support documents online.
Flat-Panel Monitors
1
Ensure your monitor is plugged in to a power source. It doesn't need to be connected to your PC. Turn the monitor on and press the "Menu" button, the blank button beside the plus and minus buttons.
2
Navigate through the OSD menu settings using the plus and minus buttons. If nothing displays on the screen when it is turned on, you almost certainly need a new monitor. If you see the menu, press the plus button seven times to highlight "Factory Settings."
3
Press the menu button again to select "Factory Settings." A screen appears to ask you to confirm the choice. Press the plus button to highlight yes, then press the "Menu" button. The screen flickers while it adjusts and applies the default settings. After this, adjust the screen position and brightness again.
CRT Monitors
1
Plug in and turn on the monitor as you did in Step 1 of Section 1. Dell's CRT monitors have a different menu system than some of the flat-screens. The four small buttons on the front of the monitor control its different functions. Press the button farthest right to open the menu.
2
Press the left and right arrow buttons to navigate the circular OSD menu. Items are arranged around the outside of the box onscreen, and settings for each particular menu item are in the center. The default is contrast, and the icon for the contrast setting is red (in the top left-hand corner).
3
Press the left arrow three times to highlight "Recall," marked by a diamond with a line through it (below "Exit"). Press the "Menu" button to activate the factory reset. All settings will be restored, including the zoom and color temperature (settings unique to CRT monitors). Access the menu to change these settings again.
Photo Credits
photo_camera

Jupiterimages/Photos.com/Getty Images