How to Record VHS to My Computer
by Noel Lawrence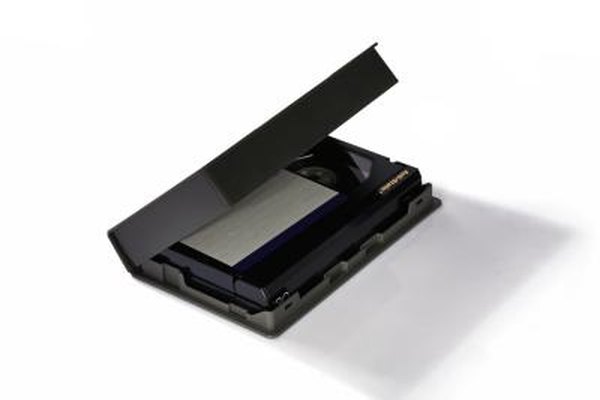 As VHS tapes begin to age and deteriorate, recording them to digital format is important. Digitizing precious images such as family movies allows you to keep them on your computer indefinitely and make numerous DVD copies to share with friends and relatives. While many video conversion services will digitize your VHS tapes for a price, you can record them to your computer without a significant investment of time, money or labor.
1
Review the VHS tape you want to record. Evaluate whether it contains material that you would like to preserve such as an old home movie. Popular films and other material easy to find on DVD may not be worth recording and often will look better than an old VHS cassette.
2
Obtain video conversion hardware. While most computers can record mini-DV tapes automatically with a video camera through a FireWire port, analog-to-digital conversion requires additional equipment. Mac users often choose the EyeTV package. The Presto! conversion box is a popular option for PC users.
3
Hook up your VCR to your conversion box via RCA cables, following the instructions of your conversion package., Then connect your box to your computer via either the FireWire or USB cable (depending on the package).
4
Launch your video-conversion software. Some video-editing programs such as Final Cut Pro have a built-in capture module for acquiring VHS footage. Otherwise, use the software packaged with the video-conversion hardware.
5
Gauge the available disk space on your computer. The recording process requires between 50 GB and 100 GB of free space. The files themselves can take up anywhere from 10 MB to 1 GB per minute depending on the compression format you use. You also may change the resolution, though anything below the standard 720-by-480-pixel video will result in significant image degradation. For this reason, you may want to invest in an external hard drive to store your video files.
6
Make a few sample recordings on your computer in different file formats. Common file formats include AVI, QuickTime, MPEG2, and MP4. Find one that looks good but does not take up more hard drive space than you can afford.
7
Begin the recording process, following the instructions of your application. After you start playing the VCR, the software will reproduce the image from your VHS tape in a window on your monitor. You then press a "record" button to capture the desired footage. If necessary, use the VCR controls to rewind or fast forward through the tape to find what you want to record. Be sure to pay close attention to the window during the recording process in case your computer crashes or if the RCA connection falters.
8
Save the digitized video file to your hard drive, following the instructions of your software,
9
Play back the digitized video file to test audio and video quality.
Tips
check

If you plan to burn your VHS tapes to DVD after digitization, record them in MPEG-2 format.

check

Digitization is processor-intensive, so be sure not to browse the Web or use other applications until the recording is finished.

check

Create an organized directory of folders for your files so you can keep track of them.
Warning
close

If the cassette jerks or stalls during playback, it may suffer from "sticky-tape syndrome" which can damage your tape and your player. Take these tapes to a professional conversion house.
References
Photo Credits
photo_camera

Visage/Stockbyte/Getty Images