Recommended SDHC Card for a Nikon DSLR
by Steve Lander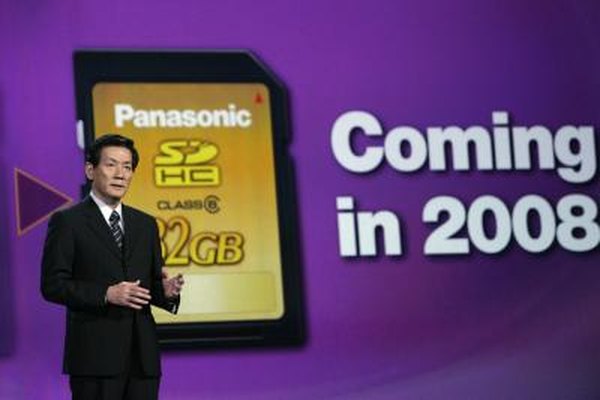 Many of Nikon's digital single lens reflex cameras use Secure Digital High Capacity media cards. Since the Secure Digital Card Association started certifying SD cards in 2000, this type of flash media has grown in popularity due to its small size and high capacity. Nikon DSLRs can use a range of different SD cards to store both video and audio.
SD, SDHC or SDXC
SD cards come in three varieties, all of which are compatible with Nikon DSLRs. The original SD specs allowed for cards that store up to 2GB of data. With growing media file sizes, the SD Association published the SD High Capacity specification that allowed for cards of between 4GB and 32GB in size. As users' needs outgrew the 32GB limit, they developed the SD Extended Capacity specification, which supports cards of up to 2TB in size. Nikon DSLRs work with all three types of cards.
Speed Classes
SDHC cards carry a class number that indicates how quickly they can transfer data. Nikon recommends cards that have a class number of six or higher if you will be using them for video recording. Nikon DSLR cameras that support the Ultra High Speed SD specification can also use UHS-1 class cards.
Consumer SD Card Recommendations
Nikon tests their consumer-oriented DSLR cameras, like the D3100, with cards from a number of manufacturers. They certify that SDHC cards from SanDisk, Toshiba, Panasonic and Lexar will work with their cameras. This does not mean, however, that SDHC cards from other manufacturers will not work; you simply have to try them. These cameras also get tested with cards ranging from 512MB to 64GB in size, and Nikon publishes picture capacities for 4GB and 8GB cards. For example, an 8GB SDHC card will hold 259 RAW images on a D3200 DSLR, while a 4GB card will hold 460 fine-quality JPEG images on a D3100 camera.
Semi-Professional SD Card Recommendations
Some semi-professional Nikon DSLR cameras, like the D600, also use SDHC cards. These cameras use the same major-brand SDHC cards as the consumer cameras. The key difference with the semi-professional cameras is that they can frequently record larger file sizes, requiring more space. For example, an 8GB card will only hold 190 uncompressed RAW images on a D600 DSLR.
Photo Credits
photo_camera

David Paul Morris/Getty Images News/Getty Images