How to Receive Email
by Chris Newton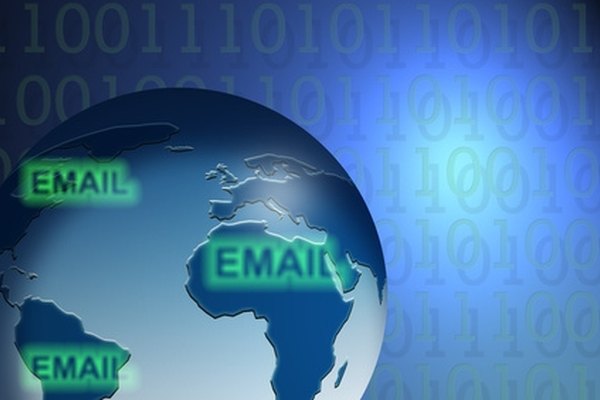 Email is a popular method of communication in today's modern world, and shows no signs of declining in popularity. People use email for a variety of reasons; personal communication, announcements to friends and family, business communication and sending files are just a few examples of how people use email every day. Receiving email is not difficult to do. Once you receive a few emails, you will quickly get the hang of it.
Find an email service provider. Several websites offer free email accounts, including yahoo.com, hotmail.com and gmail.com. If you have a specific email service provider in mind, go to that provider's website, or search for it online if you do not know the website address. Alternatively, you can purchase email software like Microsoft Outlook (microsoftstore.com) or Eudora (eudora.com). Email software allows you to set up email addresses to specific domain names or websites that you own or are affiliated with. For example, if you own a small business, you should consider purchasing email software so your email address is specific to your company name and website rather than attached to a free email service provider like Yahoo or Hotmail.
Create an account with your email service provider. Most sites ask you to submit some basic personal information: name, age and gender. You will also choose your display name (the name people see when you send them emails), your user name (the name you use to log in to your email account), your specified email address for the email service provider and a password for your email account.
Log in to your email account. You will log in using your chosen user name and password. Enter the user name in the "User Name" field, and enter the password in the "Password" field. Press the "Log In" or "Submit" button. If you are successful, you will be take into your email account's in-box. If you are not successful, double-check that you entered the information correctly. Most passwords are case sensitive, so use appropriate capital and lowercase letters. If it is still not working, contact the site's customer support.
Send yourself a test email from your in-box. Click "New Message" or "Compose Email" (depending on the site or service you use). Enter your email address in the "To" field, type "test" in the "Subject" field and write a sentence or two in the message body. Press "Send." The email should arrive in your in-box momentarily. If it does not, press "Refresh" at the top of the page until you see a new message. Click the new message to open and read it. You have just successfully sent yourself an email.
Share your email address with friends, family and co-workers. Encourage them to send you email as a way to communicate with you. Check your email regularly for new messages by logging in to your email account. When you see new messages, click on them to open and read the messages. If the message requires a response, press the "Reply" button, type your response and press "Send" to send the response back to the person who sent it to you.
Tip
check

There cannot be multiple email accounts that use the same email address, so your chosen email address has to be unique. If your first choice is taken, try different variations that you can remember easily until you find one that is available. Many people use their first initial, last name and year they were born as their email address, though you can choose whatever works best for you.
Warning
close

Never give out your email address to untrustworthy people or websites.
References
Photo Credits
photo_camera Email Concept image by wayne ruston from Fotolia.com