How to Read the Text Message Database File From Your iPhone
by Nick Flegg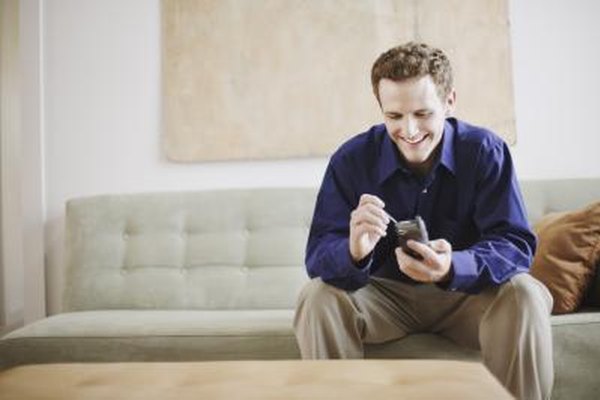 You can access the messages on your iPhone either by using apps or by manually locating the correct backup file and converting it into a readable format. Apps enable you to access and view the content currently on your phone or from backups that have been previously saved on your computer. You can also copy files from your iPhone onto your desktop in readable format for later viewing.
Back Up Your iPhone
1
Connect your iPhone to your computer and run iTunes. Click the "iPhone" button and then click "Back Up Now" under the "Manually Back Up and Restore" menu.
2
Click the "Preferences" option, found in the "iTunes" menu on a Mac or the "Edit" menu on Windows. Click the "Devices" tab and ensure that your iPhone appears in the "Device Backups" menu, along with the current date.
3
Navigate to your MobileSync Backup folder. On Windows 8, the backup folder can be found under "C:\Users\[Username]\AppData\Roaming\Apple Computer\MobileSync\Backup." On Mountain Lion, the backup folder is located under "[Username]\Library\Application Support\MobileSync\Backup." Locate and copy the file titled, "3d0d7e5fb2ce288813306e4d4636395e047a3d28." Paste the file on your desktop for quick access.
4
Navigate to the iPhone-SMS Backup website (link in Resources). Scroll down to the "How to back up your SMS from iPhone" section and click the "Choose File" button, under "Choose the file you just located." Locate the SMS message file on your computer and double-click it to select it. Click the drop-down box next to the "Choose your timezone" option and select the appropriate time zone. Select the PDF option under the "Choose the output format of your SMS messages" option and then click the "Submit" button to download the file.
iScavenge
1
Download iScavenge from the official iScavenge website (link in Resources).
2
Double-click the downloaded file to open it. Drag the iScavenge app to your Applications folder.
3
Open the app and select one of your iPhone's backups from the list of options. Click the "Open" button to continue.
4
Click the "Messages" tab and then click the "Save All" button to save the messages to your computer.
PhoneView
1
Purchase and download PhoneView from the official Ecamm website (link in Resources). Double-click the downloaded file and drag the "PhoneView" app to your Applications folder.
2
Connect your iPhone to your computer. Close iTunes if it opens automatically. Open the PhoneView app.
3
Click on the "Messages" tab and select the message you would like to read. Click the "Copy from iPhone" button to copy the file to your computer.
More Articles